Woollen carnage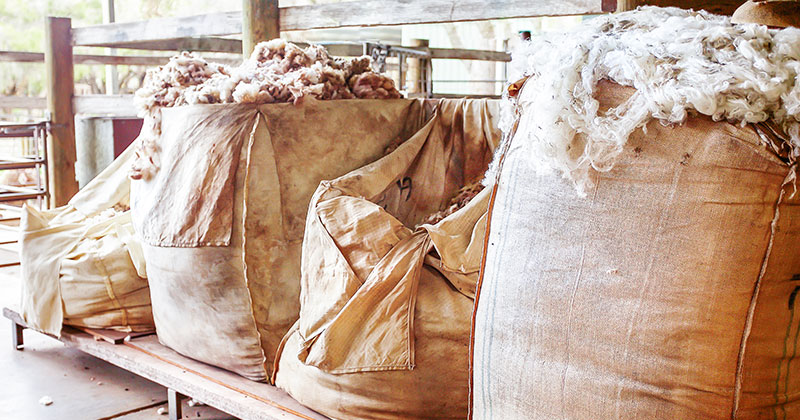 It's been quite some time since we've seen prices fall so dramatically week on week. From the outset, prices were lower and the falls continued over each day of sale. No micron, style or selling centre was spared.
The Eastern Market Indicator (EMI) fell 59 cents on the week to close at 1,893 cents. When comparing to the record high EMI last August, the current market is 11% lower. The AU$ fell by another 0.5 cents to US $0.691 and as a result, the EMI in US$ terms fell by 52 cents to end the week at 1,309 US cents (Table 1).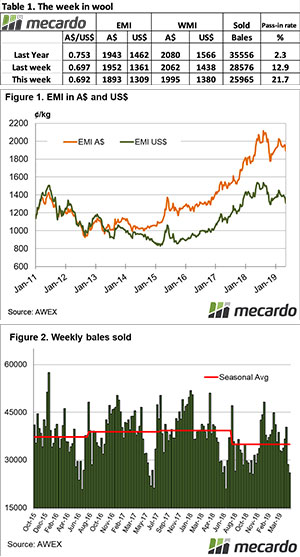 The Western Market Indicator (WMI) after losing 31 cents last week, dropped another 67 cents to 1,995 cents this week. AWEX noted the defiance of sellers in WA on Wednesday, where over 48% of the offering was passed in.
Supply was reasonably unchanged on last week, 352 additional bales were offered to take the full offering up to 33,154. But with a whopping 21.7% of wool passed in, a mere 25,965 bales were actually cleared to the trade. The last time we saw pass in rates this high was in October last year when the EMI was at 1,874 cents. Coming off a record EMI in August 2018, growers weren't happy back then to sell in the falling market. While this weeks market isn't far from those levels, it's still a good leg above the season lows in November.
In the auction weeks since the winter recess, 1,289,932 bales have been cleared to the trade, 240,215 fewer than the same period last year. The average shortfall cleared to the trade compared to the same time last year now sits at 6,492 bales per week fewer.
The dollar value for the week was reduced again at $51.83 million for a combined value of $2.959 billion so far this season. A simple calculation of $ value divided by bales sold gives us $1,996 per bale across all types for the week.
Even crossbred wools couldn't hold their stance in the falling market. The 26 and 28 micron plummeted down 110 – 140 cents in Melbourne. The broader 30 and 32 micron fibres weren't as heavily discounted, dropping just 20 – 30 cents. The Cardings Indicators fell 35 to 50 cents on the week to the support level of 2015-2018 at around 1040 cents.