Yardings stronger but demand holding up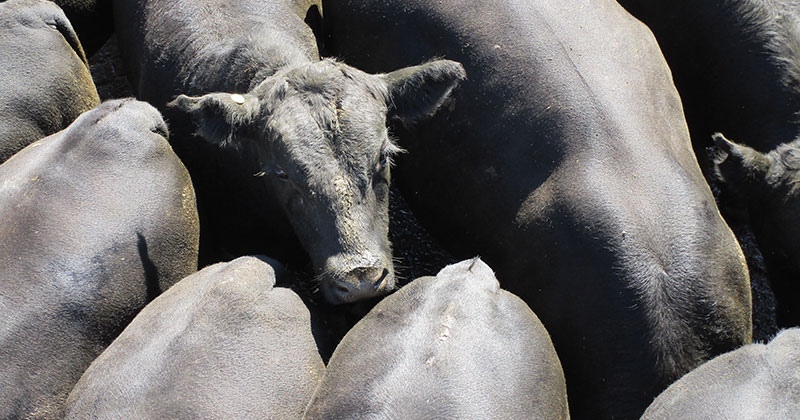 The yearly peak for the Eastern Young Cattle Indicator (EYCI) has drawn out more young cattle, but demand was up to the challenge. With young cattle yardings reaching a four month high, the EYCI managed to hold its strength.
It is unusual for young cattle yardings to hit a high at this time of year but the continued dry and the highest prices for the year, seem to be drawing more to the market. Figure 1 shows EYCI yardings moving just over 20,000 head which is only the second time it has breached this level in August. The last occurrence was in 2015.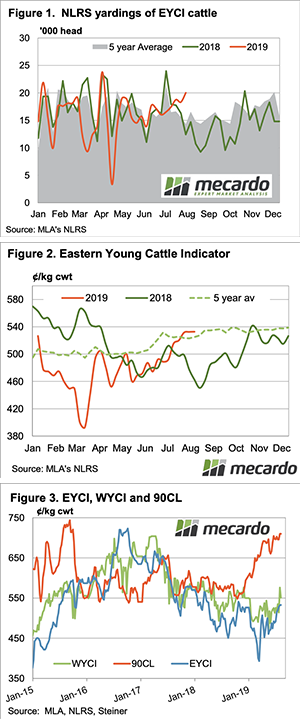 The higher yardings failed to dampen prices, with the EYCI remaining at 532¢/kg cwt. Figure 1 shows the EYCI is now 70¢ above the same time last year. Although, it was August when prices bottomed out in 2018.
Southern areas continue to drive the young cattle market but it's creeping further north. CTLX Carcaor had an average price of 594¢ this week, matching Wagga.
The lower Aussie dollar will no doubt offer some support for cattle prices. Sitting close to a 10 year low, it has pushed the 90CL export price to 710¢/kg swt. This is another four year high for the 90CL, and it looks like it has helped drag the WA Young Cattle Indicator higher.
Figure 3 shows the WYCI has made a move higher but lost some ground this week. Both the EYCI and WYCI have a long way to go to meet the export value.
Next week:
There is more winter rain coming for southern areas with this week's cold snap. This will help to maintain tight supply and strong demand in those zones. Still no rain for the north, so the flow of cattle out of those areas is likely to continue.
Finished cattle should find support from the lower Aussie dollar and subsequent strong export values. Given the season it's hard to see too much downside for finished cattle until well into spring.