100¢ lower in just over a fortnight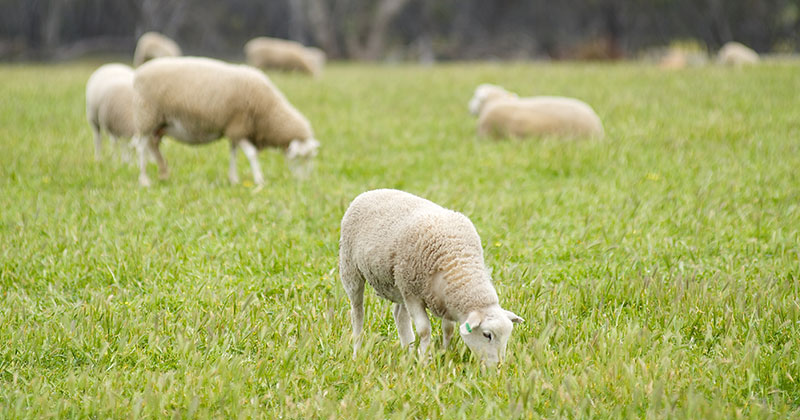 Just over two weeks ago the Eastern States Trade Lamb Indicator (ESTLI) was peaking at 951¢/kg cwt and yesterday it closed at 851¢ – how quickly sale yard sentiment can change as we approach the spring flush.
We aren't in the depths of the spring flush yet, although Meat and Livestock Australia (MLA) reported this week of some early signs of new season lambs starting to show up in NSW. Meanwhile east coast lamb slaughter made a new seasonal low last week with under 248,000 head processed – Figure 1.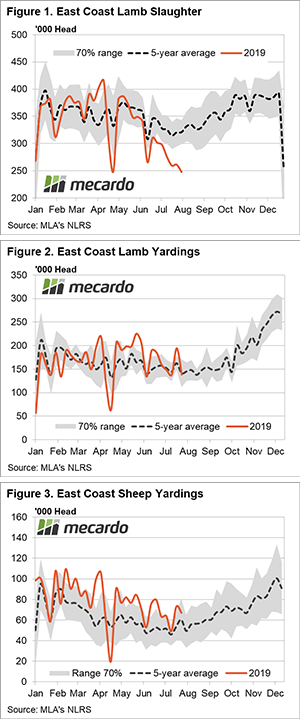 The reduced processor activity showing up at sale yard prices this week across the country with all national lamb and sheep indicators reported by MLA posting declines between 9-31¢ on a cwt basis. The National Trade Lamb Indicator (NTLI) easing by the greatest magnitude with a 3.6% drop to 842¢/kg.
The National Mutton Indicator (NMI) not far behind, reporting a 3.3% fall to rest at 559¢. The NMI feeling the impact of softer mutton price in the West, with WA Mutton off 85¢ to close at 484¢. Mutton prices on the east coast managing to remain at reasonably good historic levels between 565¢-605¢
Restocker Lambs the least impacted, only 1.1% lower to finish at 801¢/kg cwt, boosted by strong gains to Victorian Restocker Lambs which were up 48¢ on the week.
Producers responding to easing lamb prices over the last fortnight by pulling back throughput with the east coast yarding levels easing 29% from the week prior to sit fractionally below the five-year seasonal average levels for this time in the year – Figure 2.
East coast producers seemingly happy with the current mutton prices nearer to the $6 region as mutton throughput continues to trek along the upper boundary of the normal seasonal range averaging over 63,000 head per week over the last month, which is 20% above the five-year trend -Figure 3.
Next week
The magnitude of the recent fall in the ESTLI seems a bit of an over-reaction given we are yet to see any significant numbers presenting at the sale yard. Some good rain again to the southern regions this week will also help stabilise the market so I would anticipate a consolidation of prices at current levels in the short term and the chance of a small rally before we head lower again.
Although, don't expect to see the ESTLI back near 950¢ this season as I think we have seen peak a few weeks back.