A cut in China livestock tariffs a big deal…or not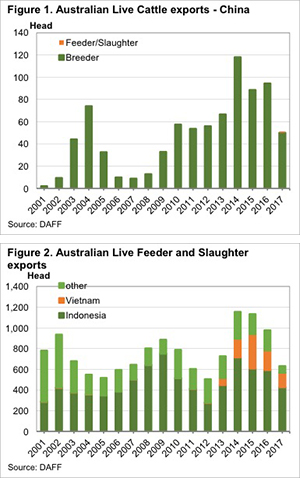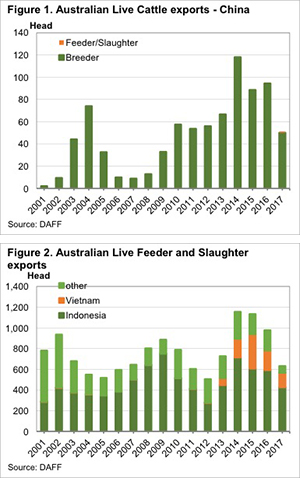 According the Australian Livestock Exporters Council (ALEC) it was agreed last week that China are going to cut the 10% tariff on live feeder and slaughter sheep and cattle imports by January 2019. Is this a big deal, or not?
Breeding cattle dominate the Australian live export trade with China. Last year Australia had its second biggest year on record for breeder cattle exports, with 94,341 head shipping out (figure 1). There has been no tariff on breeder cattle exports for some time.
The latest announcement refers to the cutting of the tariff on slaughter and feeder cattle. This is a market which has only just started to move. For the year to October, feeder and slaughter cattle exports to China have totalled just 1,195 head. This is 2.3% of total export to China.
The abolishment of the 10% tariff on feeder and slaughter cattle exports to China will make cattle 10% cheaper for Chinese importers, while Australian sellers will receive the same price. In reality, when tariffs are removed (or applied), the benefit is split between seller and buyer, so there should be some price rise at the exporter end as well, which will no doubt benefit growers.
So where will these cattle come from?  There is competition for China in the feeder and slaughter cattle market. The main player is obviously Indonesia, while Vietnam has grown in the last five years to be easily the second largest importer of Australian live cattle.
Figure 2 shows just how large the Indonesian and Vietnam markets are compared to China. As such it would take a very large push to see Chinese live export demand start to impact prices in Indonesia and Vietnam.
The feeder and slaughter cattle which have been exported to China were actually sent out of Portland earlier this year. This is where many of the breeder cattle which are sent to China come from, and increasing live exports could add support to feeder and slaughter cattle prices in the south when a boat is going.
The 10% tariff was also lifted on sheep, but sheep exports to China don't even rate a mention in the data.  They are lumped in with 'other'.
Key points:
China have lifted the 10% tariff on live feeder and slaughter cattle and sheep imports from Australia.
The current trade with China in live feeders and slaughter cattle is very small, but could grow with opening of the trade.
Over time increasing demand for beef in China is likely to see the market grow and support prices.
What does this mean?
The lifting of the tariff from China is not going to see a rapid jump in prices tomorrow. It is an indication, however, that China are serious about taking more live cattle from Australia to bolster beef supplies. While the market is currently very small, any opening up of trade is good for cattle producers, as boats create competition and support prices.
Figure 1 shows that breeder cattle exports have grown rapidly in some years, so don't be surprised if you start hearing more and more about boats going to China.