A joyous wool market to all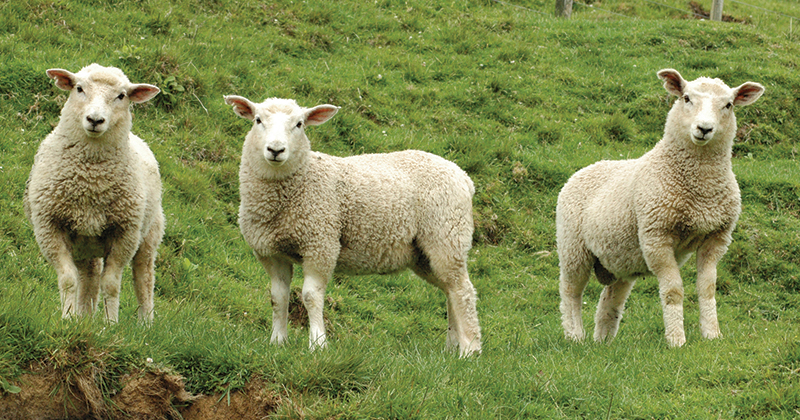 Christmas presents came early for wool sellers this week with a strong "across the board" result in all three selling centres. The strongest evidence of woolgrower satisfaction was the low pass-in rate of just 3.1% nationally.
It was noted in AWEX reports that "buyer interest intensified" to capture market share with only one selling week remaini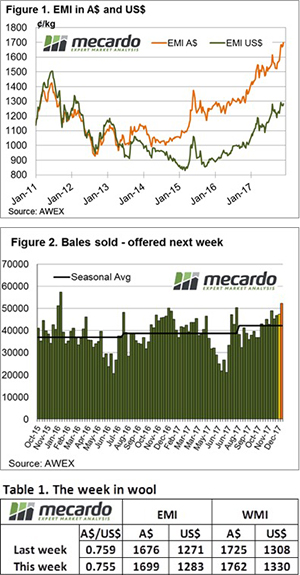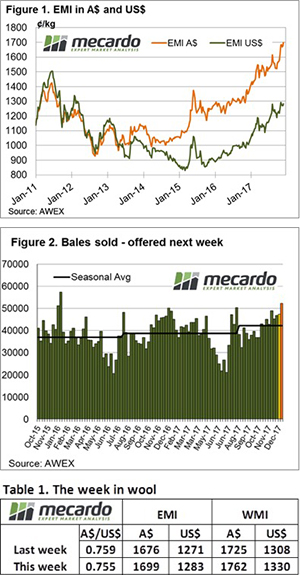 ng prior to the Christmas recess.
The benchmark Eastern Market Indicator (EMI) gained 23 cents to close the week at 1699 in Australian dollars (a new record), while despite an easier Au$ level a similar story resulted in a 11 US cent increase. The good news was also evident in the West with the WMI lifting 37 cents closing the week on a strong note.
Main interest focused on well measured wools, and skirtings with low VM content were also keenly sought. However, such was the enthusiasm to secure volume by exporters that the lower spec wools were also carried along and posted similar improvement.
While the prices increased for all MPG's, it was the 18.5 and broader that stood out. In fact, this week it was the Crossbred and Cardings with the largest price lifts. 28 MPG in Sydney was plus 54 cents, while 30 MPG in Melbourne gained 58 cents, a 10% lift for the week!
Tagging along the good news examples was the W.A. 20 MPG category that showed a lift of 52 cents.
This year has been terrific for anyone selling wool, demand is strong, the Au$ is steady and buyers are finding plenty of orders to account for the weekly offering. Next week we will compare the various wool categories price movements for the year, but for now, wool producers can certainly celebrate a year to remember for the wool market.
The week ahead
The bale offering over the last few weeks has been sizeable, with 49,000 bales again cleared to the trade. Next week is the last sale for 2017 before a three-week recess with 52,300 bales to be offered.
We expect that the Christmas cheer will again be in abundance next week as exporters bid strongly to secure supply. There is a school of thought that the first half of 2018 might provide less volume due to earlier shearing patterns, if this is the case the market is likely to remain solid for some months at least.