Rising Tide lifts all boats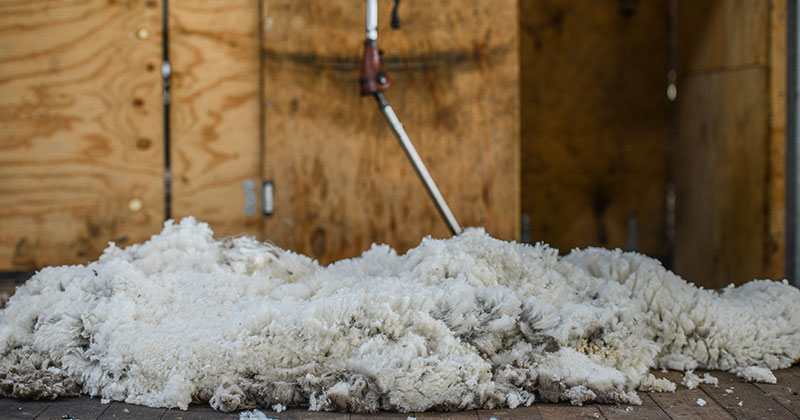 It was a steady and solid opening to wool sales this week, which offered a welcome respite to buyers and sellers alike from the recent wild roller coaster ride for wool prices over the past month. With lifts in price across the board, the pass-in rate retreated to single-digit figures.
This rising sentiment continued to the close of selling, with AWEX late on Thursday reporting Fremantle market "strengthening all the way to the final hammer."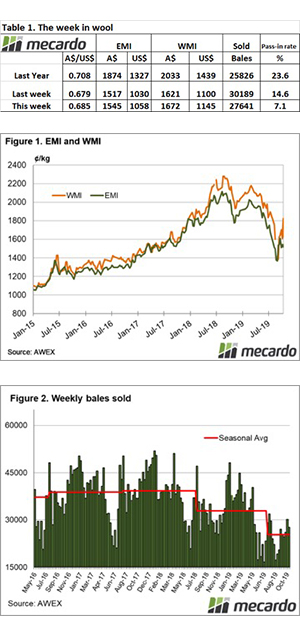 The Eastern Market Indicator (EMI) gained 28 cents (after losing 26 cents last week), to close at 1545 cents. The Au$ also rose to US $0.684, and resulted in the EMI in US$ also rising 28 cents to settle at 1,058 cents. The WMI had a strong week benefiting from selling last, rising 51 cents to 1672.
The market improvement was general and across the board. Gains of 1.5 to 2.4% were reflected across the range of MPG categories, a case of a "rising tide lifting all boats".
A look at the relative centre offerings shows that with Sydney only selling on day 1, it only offered 4,972 bales to sell 4,577, while Melbourne over 2 days sold 14,627 out of the 15,498 bales that came forward. Fremantle passed in 8.3% of the 6,607 bales offered, for a clearance of 6,057.
There was a much-reduced offering of 29,760 bales this week, almost 6,000 bales fewer than last week's volumes. The National Pass-in (PI) rate was half of last week at 7.1%, which meant 27,641 bales were cleared to the trade, 2,548 less than last week. The supply shortfall is still significant, with 113,600 fewer bales sold so far this season compared to the same period last year. This equates to an average weekly gap of 8,114 bales since July.
The dollar value for the week was $48.93 million, and a bale average value $1,770. The combined value so far this season of $614.50 million.
Crossbreds performed in line with the general market, while Cardings were quoted up 3%, however it was only Melbourne & Fremantle centres that contributed to the rise.
The week ahead
All centres return to selling both Wednesday and Thursday next week, with an increased offering of 39,000, 10,000 more than this week.
Despite the increased offering, the positive end to sales this week should provide a solid platform for next week.