A new record for the 90CL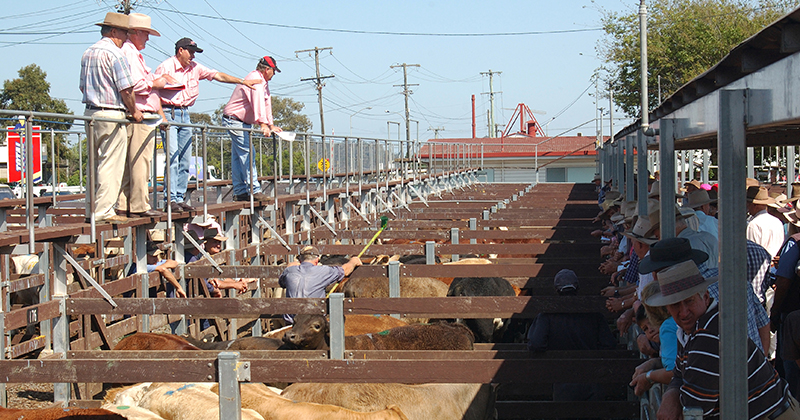 Cattle markets continued to track sideways this week, with very little in the way of major movements in most indicators.  We did see the Bureau of Meteorology (BOM) update their three month outlook yesterday, which is a little more promising, but not much, while the record for 90CL to the US was finally broken.
The 90CL indicator has been creeping towards a new record high over recent months, and it finally broke through last week.  In Aussie dollar terms the 90CL hit 750¢/kg swt, moving higher than the September 2015 high (figure 1).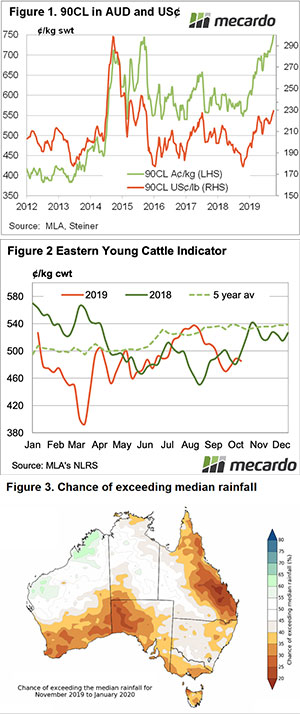 The driver was values in US terms, with US buyers apparently unable to get product from New Zealand.  This put Australian processors in the driving seat, and able to negotiate values higher.
East Coast cattle slaughter didn't seem to take a breather for either the AFL or NRL public holidays.  Cattle slaughter did fall slightly from the second last week in September, but it remains above most weeks since mid-June.  Cattle slaughter is well above this time last year, and looks like it will remain there.
Heavy slaughter continues to be counterbalanced by strong export demand.  Figure 2 shows the Eastern Young Cattle Indicator (EYCI) continues to move sideways, defying dry weather and plenty of cattle on the market.
It was this week last year the EYCI took off with some rainfall improving conditions.  It is hard to see a similar rally at this stage, with little rainfall on the short term forecast.
Next Week.
Record export beef prices are no doubt supportive of cattle prices, but it will take rain to see a significant rally.  Figure 3 shows the BOM 3 month outlook released yesterday.  There is a lot less brown than the last forecast, but key cattle areas are forecast to remain drier than normal.  But on the positive side, a 30% chance of above median rainfall means there is a 30% chance of a solid price rise in the next 3 months.