A review of the past month.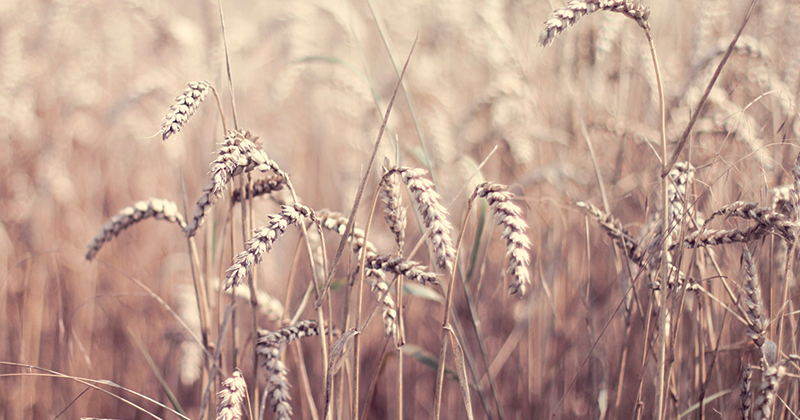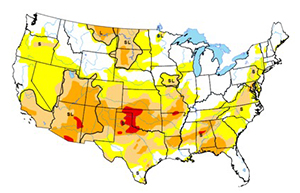 Time flows like water down the river rapids, we are now into February and the holiday season is now but a distant memory. January has come to an end, and it's worth examining how the start of the year has gone.
The futures market has risen sharply in the past three weeks (figure 1), this has been as a result of a depreciating US dollar (discussed here) and weather concerns. The market is concerned about weather patterns in the US (see map), which show abnormally dry conditions across much of the country. Although still early in the season, the speculative short in the market as at close to record levels, which can lead to sudden swings in the market. Time will tell whether the weather risks, are enough to warrant a sustained rally or whether the large global stocks are enough to constrain pricing.
The A$ has been like a steamroller since the beginning of December (figure 2), with 81¢ being achieved last week. Whilst there has been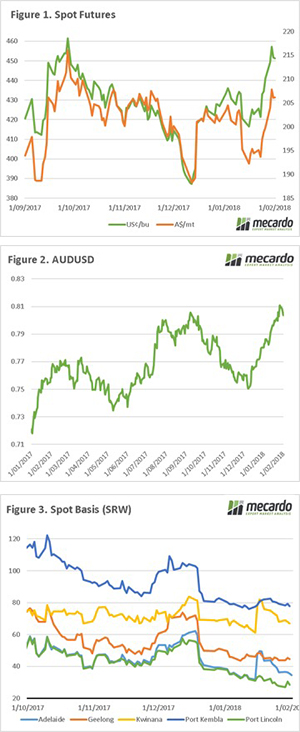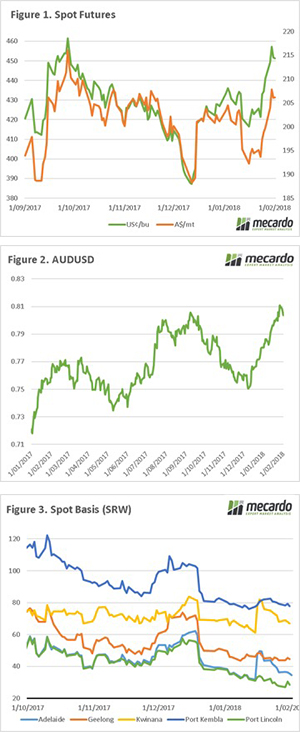 a modest fall, it has remained stubbornly above 80¢. The RBA have their first meeting of the year next week, and it is expected by most that rate will remain at current levels (1.5%). However, currency analysts are having divergent views on when rates will rise, with the following forecasts:
ANZ forecast two rises in 2018, with the first possible in Q2
Credit Suisse believe that there is the potential for a rate cut in 2018
UBS forecast no rate hike in 2018
Morgan Stanley forecast no rate hike in 2018, but a rise in 2019
I was asked this week why local prices have not moved in line with futures. The futures prices have rallied, at the same time as the A$. This takes some shine off when converting to a local value. However, the basis level has slid downwards since harvest. It has to be remembered that basis levels are still very strong, and technically we are actually receiving very strong prices compared to the rest of the world.
In recent months, we have discussed the reality of high basis prices and provided some advice on ways to lock in basis through a physical sale, and keeping exposure to the futures market. Those who followed this advice, have now benefitted from locking in a historically strong premium, and can now also benefit from futures rises.
I recommend reading the following article on, which briefly explains a number of strategies:
What does it mean/next week?:
As always at this time of year the market will be looking towards the weather, what does it have in store for the northern hemisphere crop. It is currently a balancing act between potential depleted production in 18/19 against record global stocks.
The RBA interest rate announcement will be made, it is likely to remain the unchanged and remain at record low levels.