Another two year slaughter high but prices rise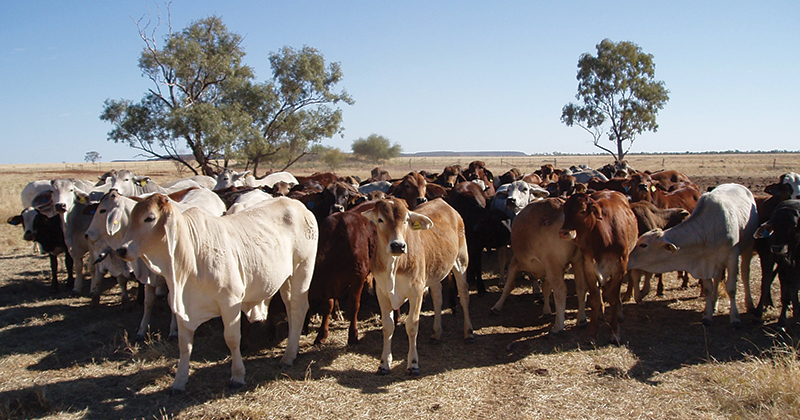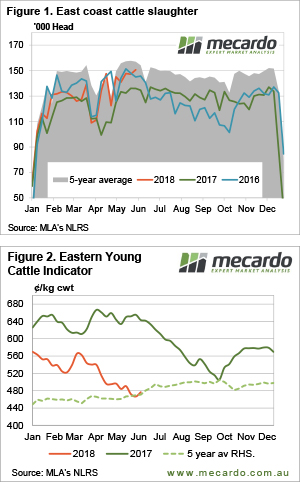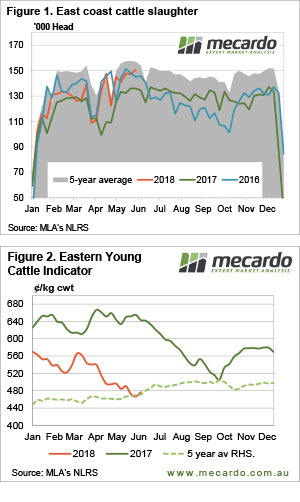 Another week and another high for slaughter rates. It seems, however, supply may have eased a little this week, as the Eastern Young Cattle Indicator managed to gain ground for the first time in a month and posted its biggest gain since March.
Figure 1 shows cattle slaughter ramped up again in the week ending Friday the 1st of June. It was in May 2016 when east coast cattle slaughter was last over 150,000 head. Last week slaughter didn't quite eclipse the 2016 level but was the second highest weekly slaughter since the end of 2015.
Queensland slaughter was relatively steady last week. It was NSW and Victoria where rates jumped, as winter arrived with no real precipitation.
This week the EYCI gained 10¢, which is its best effort since March, to finish Thursday at 476.5¢/kg cwt.  The market will have to gain another 20¢ before we can say the downward trend has been broken.
We might be starting to see the winter doldrums for young cattle supply. The 15,000 head young cattle yarding this week was the second lowest for a full week for the year.
Most of the state indicators were steady to slightly higher this week. One number which caught our eye was restocker steers in SA at 50¢/kg lwt. Hopefully, this was a typo.
In the west, young cattle prices eased, with the WYCI down 11¢ to 532¢/kg cwt. It rained in the west during the week, so at this time of year prices probably shouldn't be falling. They might bounce back this week.
The week ahead
There looks to be some rain on the way for the Riverina, which might offer a start to the season if it's followed up within a couple of weeks. This might at least halt some of the supply of young cattle as grower elect to take a wait and see approach.
Southern WA is set to get some more rain, so it's hard to see prices dropping much further over there as supply is traditionally tight at this time of year and rain will only make it tighter.