As January goes…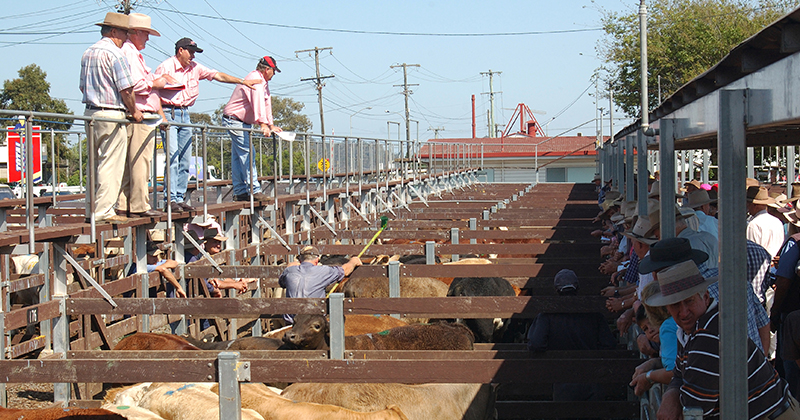 Back in 2016 MLA put out an interesting piece that looked at the Eastern Young Cattle Indicator's (EYCI) performance over the month of January and compared it to the rest of the season. As each January ends it makes me think of this piece. Let's hope for our beef producer's sake it doesn't hold this season.
Click here to recap on the original MLA article.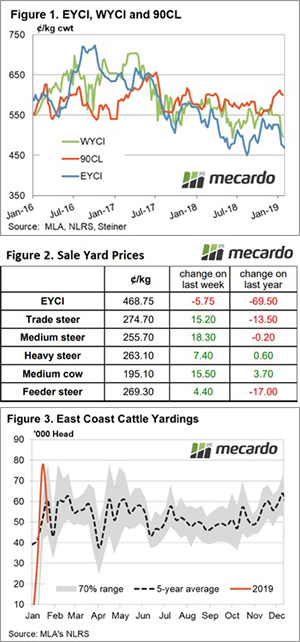 The basic premise of the piece was that the year on year January performance of the EYCI was often reflected in the rest of the season's pattern, moving in the same direction and usually by a similar magnitude. The EYCI closed at 468.75¢ yesterday, around 13% below where it closed in January 2018 – Figure 1. If the principle holds this year it would see the EYCI testing towards the 400¢ level by year end, let's hope not.
Young cattle in the West followed the EYCI lower to see the WYCI drift below 500¢ for the first time since June 2018. However, in offshore markets the 90CL imported cow indicator managed to hold above 600¢/kg CIF for the third week in a row. Steiner reports that US demand for this type of grinding beef has been lower over January but imported beef volumes from Australia and NZ have also been lower, thus keeping the price of the 90CL reasonably stable.
In domestic markets the EYCI was the only NLRS reported category of cattle to drop this week along the East coast with gains noted between 2%-8%. Medium Cow the most improved, posting a 7.9% lift to close at 195.1¢/kg lwt – Figure 2.
East coast cattle throughput for the week ending 25th January dipping 36% from the previous weeks figure to see yarding levels 18% below the five-year average for this time in the season – Figure 3. Lower than normal cattle reported in NSW and Victorian sale yards dragging down the East coast total and the potential reason for the support being shown to most East coast cattle prices this week.
Next week
Monsoon type activity across northern Queensland will see increased rainfall levels start to impact into central Queensland in the coming week with falls between 25-100 mm expected as far south as Rockhampton, on the coast, and Charleville, in the centre.
However, there are limited falls forecast for NSW and Victoria mainly on the coastal/eastern regions. With the 90CL holding up so well its unlikely to expect the EYCI continue too much lower and with rain creeping further south in Queensland this will start to provide some support to the EYCI eligible cattle in the northern sale yards.