Buy the rumour, sell the pulse.
The agricultural trade is always full of interesting moments. As a staple food product, political decisions around the world can have a big impact. In this week's market comment, we take a look at the conditions in the US, and rumours emanating out of India with potentially severe impacts on Australian pulse prices.
The weekly market comments are being published a day early, due to the Easter break.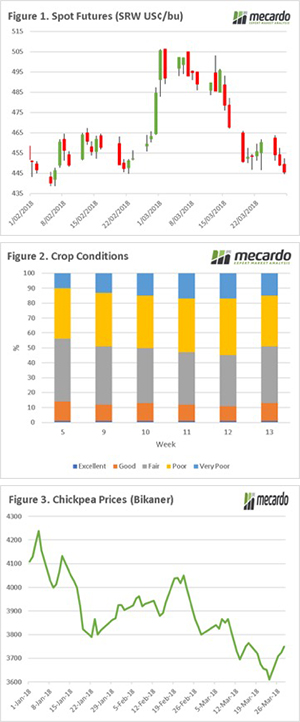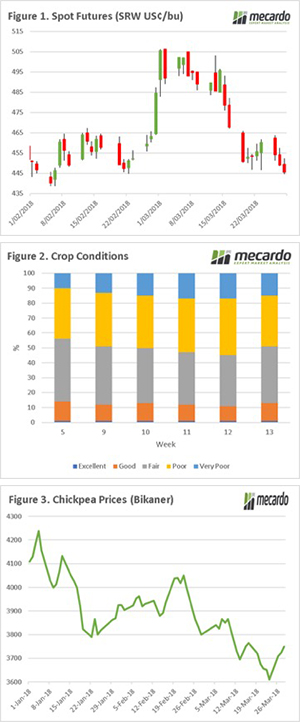 The wheat market has continued to decline, with three sessions in a row the market has accumulated a fall of 3% since the close on Friday last week (figure 1), placing the futures market at 2-month lows. The trade continues to digest the improving weather conditions in the US, and lower than expected exports (leading to higher end stocks).
Conditions are improving in the US, albeit only marginally. In figure 2, we can see that the crop expected to be fair – excellent is at 51% (up 6%). Although it needs to be noted these conditions are considerably worse than any time for the past decade.
In the past weeks, we have been hearing rumours of an additional increase in tariffs for pulses imported into India. The India government have legislated these tariffs to protect the prices offered to farmers. The cynic in me considers that this is interesting timing with the coming election.
It however gets worse, there has even been speculation in recent days that a complete ban on imports would be enacted. In the past two days, chickpea prices in India have performed well (figure 3), is this a case of traders buying the rumour?
What does it mean/next week?:
Overnight the USDA will release the US planting intentions & the quarterly stocks. This report has moved the market in the past, but will it be enough in a market with such burdensome stocks?
At a local level, conditions across much of Australia currently seem poor for the approaching seeding period. There is still 'some water to go under the bridge', and hopefully we get some much-needed downpours prior to the commencement of planting.