Buyers continue VM discounting

Despite the lower offering this week buyers still happy to cherry pick the broadly softer market with the greatest impact felt by the finer fibres. The benchmark Eastern Market Indicator (EMI) shedding 23¢ to 1472¢/kg clean, although the softer A$ combining with the market downturn to see EMI in US$ terms drop further, down 34¢ to 1088US¢/kg. A lesser fall for the Western market noted with the WMI dropping 16¢ to close 1504¢/kg clean.


17 to 19-micron fleece registered falls of 55-85¢ across all three selling centres. Melbourne the only auction to offer some finer 16.5-micron wool, but the single source not enough to protect it from registering the largest falls this week closing 113¢ softer to 2135¢/kg clean. Medium wool classes a bit of a mixed bag with 20-25¢ falls in the 20 microns in all centres, 21 microns ranging from a 12¢ loss in Fremantle to a 6¢ gain in the South, while 22-23 mpg wool saw gains from 1-14¢ recorded. Cross bred wool saw Southern 30 mpg shedding 30¢ but the remaining classes posting flat to slight gains of less than 10¢.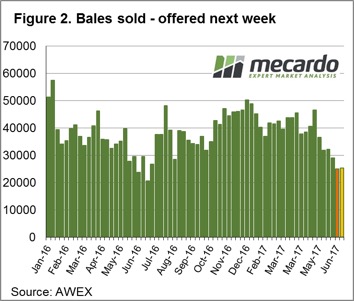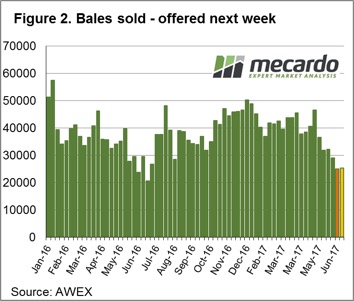 Pass in rates remain higher in the West and the national pass in rate dropping slightly on the week to 12.2% as 24,976 bales were sold out of a possible 28,459. This is the lowest bales sold since late June 2016 although compared to this time last season bales sold this week were 5.4% higher suggesting the relatively higher prices aren't deterring buyers too much.
The week ahead
Supply continues to tighten as we head towards the Winter recess and there are no sales listed in the West next week so bales on offer will drop to 25,278. Melbourne and Sydney are selling on the normal Wednesday Thursday roster. Bales offered set to recover in Week 50 as Fremantle resume selling to reach nearly 33,000 before dropping back sub 25,000 the following week.