Cardings defy downward trend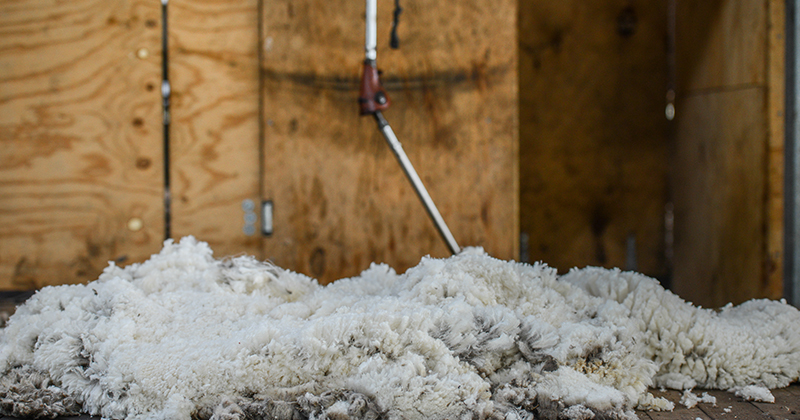 The impressive opening to the 2020 selling season, pronounced by three successive weeks of rises, has hit a roadhump as the Australian wool market has recorded overall losses this week. The fragility of the market was clearly evident as prices changed day to day, sometimes up and other times down. A softer tone was evident as soon as selling began, with the market settling on the final selling day as buyers found a price basis they were comfortable with.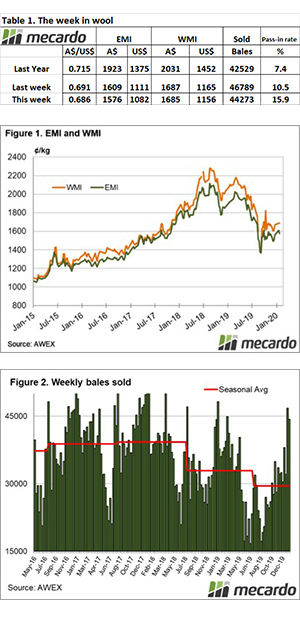 The Eastern Market Indicator (EMI) fell every day except Thursday and closed down 33 cents at 1,576 cents, a massive differential to this week last year when it reached 1,927 cents. The AU$ saw some very minor corrections over the week and now sits around the middle of US $.68 and $.69 cents. In US terms, this moved the EMI down 29 cents to 1,082 cents.
The Western Market Indicator (WMI) also eased slightly to finish the week 1,685 cents. As evident in Sydney & Melbourne, WA prices were up and down over the course of the week, with an overall downward trend as buyers wrestled to find a price they could stomach.
The national offering was very similar to last week, a total of 52,666 bales came forward, elevated as expected for January. The pass in rate increased to the mid-teens of 15.9% nationally. This meant that 44,273 bales were cleared to the trade, a top 3 performance since January 2019.
The dollar value for the week was $75.15 million, while the combined value so far this season is just under $1.215 billion.
The crossbred types saw the same fate as the other MPGs, with prices yo-yoing across the week. Oddments defied the general trend, however, propelled by a demand in locks, pushing Cardings indicators up by an average of 30 cents.
The week ahead
With the stabilization of the market on Thursday and a lower offering pegged for next week, it is possible the market has found a short-term base. How much prices fluctuate will depend somewhat on buyer confidence, so it will be important to watch for portents and omens in the Lunar New Year.
The offering posted for next week is significantly lower at 40,680 bales and the following week is a designated superfine sale.