Cardings take the heat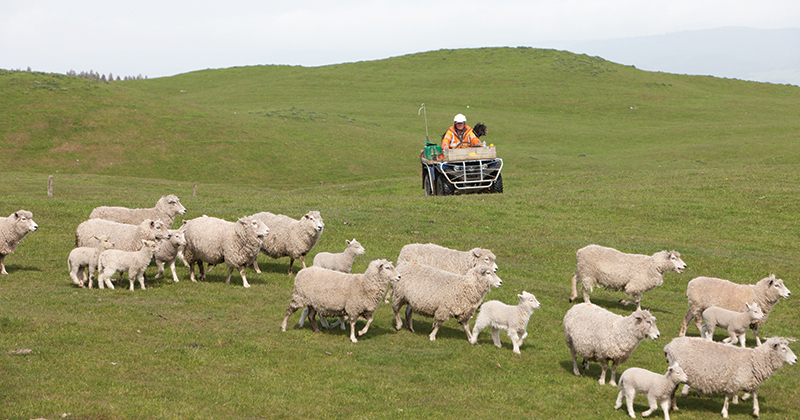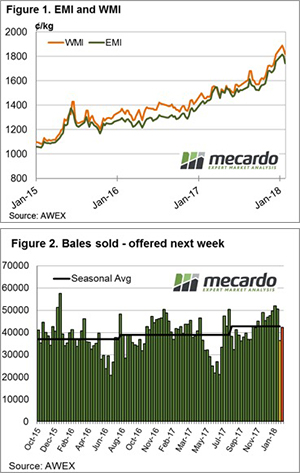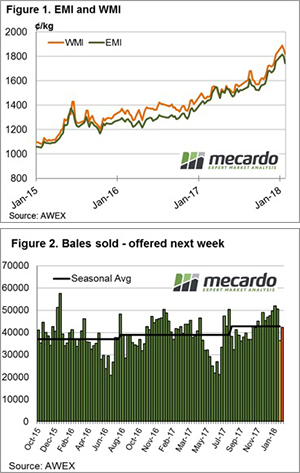 The wool market took a bit of a hit this week with most categories losing ground, with the exception of the very fine end. Cardings were hit particularly hard with the combined average fall for all three centres coming off nearly 200¢.
The higher A$ saw the falls in US $ terms lessened, but the benchmark Eastern Market Indicator (EMI) ended the week off 57¢ to close at 1744¢. The Western Market Indicator (WMI) mirrored the Eastern falls to register a 39¢ decline to 1821¢ – figure 1.
The Southern Carding indicator the worst performer of the three centres off a whopping 230¢ to see it move back under 1300¢. Northern and Western Cardings off 179¢ (1334¢) and 184¢ (1319¢), respectively.
17 micron and finer managed slight gains between 5-15¢ but most of the medium to coarse categories posted losses of a 20-70¢ magnitude. Reports from the auction floor stated that buyers were happy to pay for better prepared, quality lines but anything that was poorly prepared or suspect in quality was reasonably discounted, with buyers showing a willingness to step aside.
Growers reluctant to chase the falling market lower saw the pass in rate lift to 14.3% with 36,430 bales sold from a total offer of 45,525 – figure 2.
The week ahead
Chinese mills likely to begin the wind down in activity as we head toward the New Year festivities there and may mean buyer interest continues to wane in the coming week. A rampaging A$ above 81US¢, thanks to Trumps comments over the weekend unlikely to provide a lifeline for wool prices this week.
Sales are scheduled for Wednesday and Thursday in all three centres with a total of 42,244 bales on offer.