Cattle supply is up and so is demand it seems.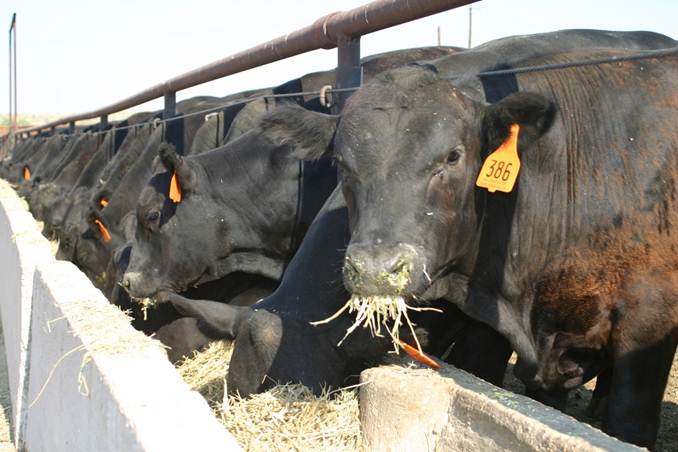 Just when you thought the rain in Queensland was starting to tighten supply, we get a week like this. Cattle slaughter was higher everywhere, and this pushed east coast slaughter to 20 month highs. The stronger supply, and limited demand for the coming week, saw prices ease.
Figure 1 shows the massive jump in east coast cattle slaughter last week with 9% more c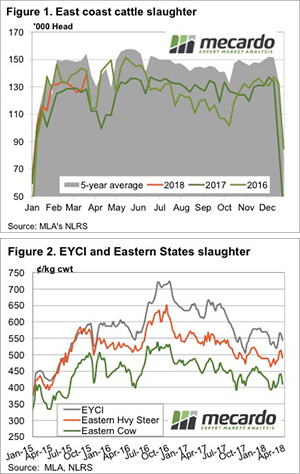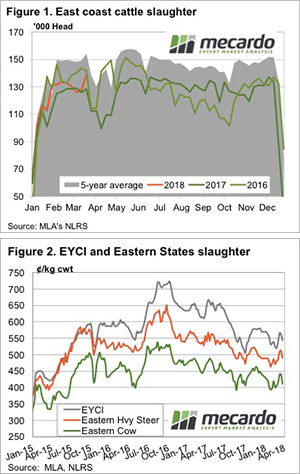 attle processed than the previousweek, and 4.3% more than the 2018 high. In fact, we haven't seen this many cattle slaughtered in a week since June 2016.
While Queensland did have its highest slaughter week for this year, it has been higher in the last 12 months. It's the drier states of Victoria and NSW which are driving the increase, having slaughtered 21% and 8.5% more than last year to date respectively.
Figure 2 shows the stalling rally in the Eastern Young Cattle Indicator (EYCI) and heavy steers and cows. The stronger supply has seen prices ease, but demand must be a bit stronger, as prices haven't fallen back below February levels – yet.
In WA, young cattle prices rallied, moving 17¢ higher to 578¢/kg cwt, a one month high. Over the hooks prices remained steady in the West, as they tend to do. Currently sitting at 500-510¢ for yearlings, and 540¢ for MSA yearlings.
In the export market, the 90CL indicator remains remarkably steady. This week the US price lost a cent, but the lower Aussie dollar saw the 90CL in our terms creep 4¢ higher to 603¢/kg cwt.
The week ahead
Autumn is usually the time for peak cattle slaughter, but we weren't expecting it this year. An autumn break in Victoria and NSW should tighten supply post Easter, but there isn't anything on the forecast.
The good news is demand seems to be partly driving the increased slaughter, with more space being made available. If supply does tighten, stronger demand bodes well for the winter price rise that we normally see, but was absent in 2017.