Cow prices responding to margins.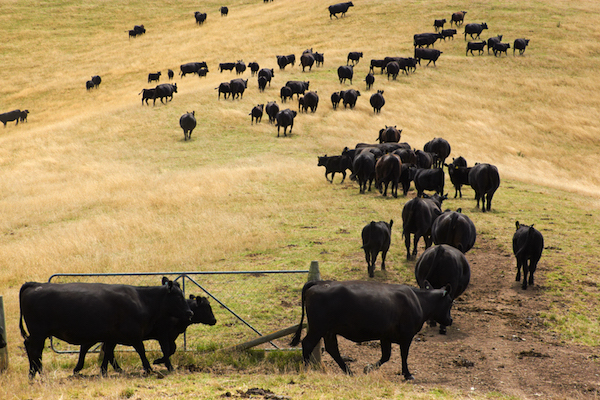 Cattle markets continue to defy the dry weather, remaining steady for another week despite supply picking up. In general, prices were steady but there are signs of things turning around in the short term thanks to weakening supply.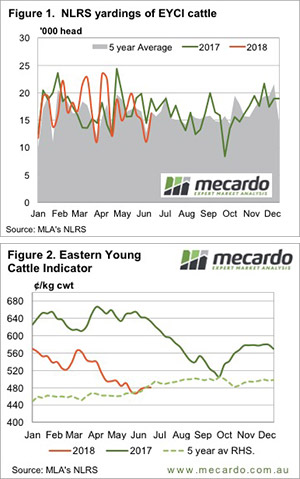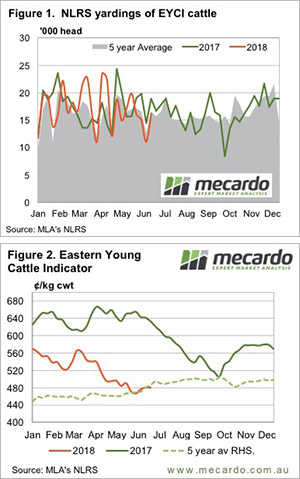 With a bit of rain about through Victoria and parts of southern NSW and SA over the last 10 days, some producers look like they are taking a wait and see approach, and pulling back supply. It shouldn't be too hard for supply to weaken either, as there are still not that many cattle out there.
Figure 1 shows the Eastern Young Cattle Indicator (EYCI) yardings rising after the Queen's Birthday holiday, but remained below last year's levels (Figure 1). Yesterday at Dubbo, one of the driest areas, 2240 head of young cattle sold for 525¢/kg cwt. This was 45¢ above the EYCI itself and shows that there is still some demand out there for young cattle. The EYCI was basically steady this week (Figure 2) as the market continues to take stock.
Amongst a lot of largely steady prices this week, the Cow indicators in Victoria, Queensland and NSW stood out. All three Medium Cow indicators gained ground. NSW the least, up 17¢, and Victoria the most, up 48¢. Matt's article from earlier in the week outlines pretty clearly why Cow prices are up, processors can afford to bid up given current margins. Saleyard Cow prices merely returned to where over the hooks values are.
In WA prices rebounded back above 500¢ to make the WA average price the most expensive in the country. The Western Young Cattle Indicator sits at 517¢, still 80¢ below the same time last year.
The week ahead
There is some reasonable rain forecast for South East Queensland over the coming week. This should see further support arrive for cattle prices and young cattle in particular. The Roma Store sale averaged 465¢/kg cwt this week, and it was the biggest contributor to the EYCI. Rain in that area should see the EYCI rally.