Delayed Autumn break shakes out some more supply.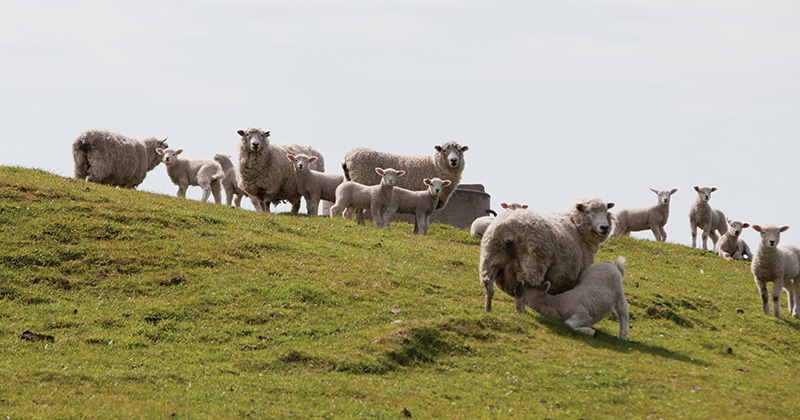 Persistent dry conditions, hitting NSW particularly hard, and a delay to the Autumn rains have forced higher than average seasonal yarding levels this week. Lamb and sheep prices are reacting to the higher saleyard numbers accordingly, with declines across all Eastern mainland state categories reported by Meat and Livestock Australia.
Figure 1 highlights the weekly and historic yearly price moves across the East Coast saleyards this week, and it's a sea of red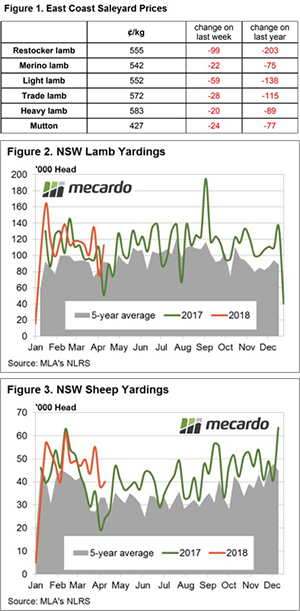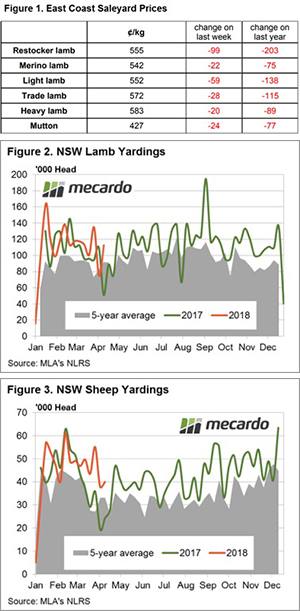 ink. Falls were recorded, ranging in magnitude from 3.5% to 17%, with Restocker Lamb taking the biggest hit, off a dollar on the week and 26.7% softer than this time last season. The Eastern States Trade Lamb Indicator (ESTLI) is mirroring the broader market decline with a 4.6% fall to close at 572¢/kg cwt.
There's a different picture in the West with prices broadly holding their ground as lamb and sheep throughput levels are comparable to the volumes registered this time last season. WA Mutton is the laggard, off 1% on the week to sit just above 400¢ and WA Merino Lamb the star performer, registering a 5% gain to test back above 630¢/kg cwt.
Among the South Eastern regions, NSW and SA categories of lamb are leading the price declines with falls recorded in the 5%-15% magnitude, while Victorian lamb categories are not off as much, posting declines between 3%-10%.
Saleyard throughput across the East coast is reflecting the delayed start to the Autumn break with weekly numbers for both lamb and sheep above the five-year average levels. NSW is the key driver for the additional throughput as the dry conditions have been impacting producers there and having a notable effect on sheep yardings in recent weeks.
Figure 2 shows the 50% gain in throughput for NSW lamb this week and numbers spiked back toward 113,000 head, a level 22% higher than the seasonal average and 122% more than this time last year. NSW sheep yardings are showing a more definitive deviation from last seasons pattern than NSW lamb, with average weekly yarding levels for the last month sitting 46% higher than for the same timeframe last season and 39% above the longer term seasonal trend pattern – Figure 3.
What does it mean/next week?:
The rainfall forecast for the week ahead shows 5-10mm expected for most of NSW and up to 25mm for parts of Victoria, but little elsewhere is anticipated in the sheep rearing zones across the nation. It may be enough to ease the magnitude of the price declines witnessed this week, but not enough to put a solid floor under the market at this stage, nor to get prices moving higher in any significant way.