East coast lamb yarding levels off like a rocket.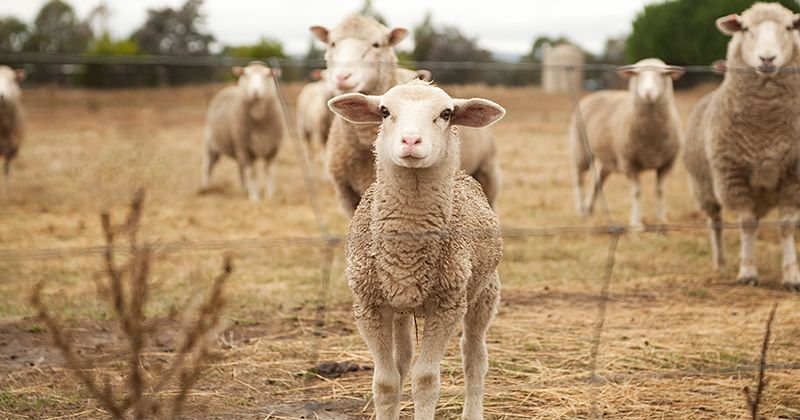 The spring flush is well underway now and the increased numbers at Victorian saleyards this week contributed to an extra 100,000 head of lamb exchanging hands. Although swelling yarding levels weren't contained to Victoria this week with SA, NSW and WA all posting increased figures.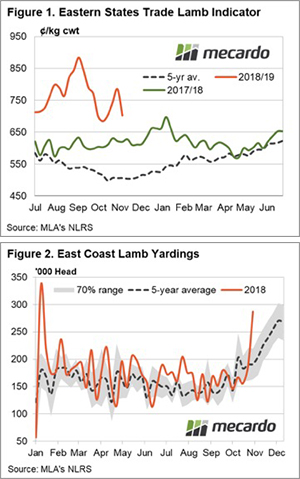 The impact of the additional supply saw prices ease across the East coast for all NLRS reported categories of lamb. The Eastern States Trade Lamb Indicator took the biggest hit on a ¢/kg basis, with a 33¢ drop to close at 678¢ (Figure 1). Price falls ranged from 12¢ to 30¢ for the remaining lamb categories (Table 1).
East coast lamb yarding levels are up 55% on the week to see 286,762 head reported, well outside the normal seasonal range that could be expected for this time of the year and 49% above the five-year average (Figure 2). The additional lambs across the east coast came from all states, with NSW lamb yardings up 34%, SA up 99% and Victoria increasing 72% from the previous week's figures.
In the West, lamb yardings were higher too, up 23%. However, the impact on price of the additional supply was restrained as trade lamb prices have been supported by the resumption of the live trade. Mid-week reports for the Western Australian Trade Lamb Indicator saw it gaining 50¢ toward 625¢/kg cwt. As we reported earlier in the week, the spread discount between East coast and West coast trade lamb has narrowed significantly since the return of additional buying competition in Western Australia with RETWA being granted an export license.
East coast mutton prices continue to hold firm, easing a meagre 3¢ on the week to close at 428¢/kg cwt. Mutton prices remain solid despite prolonged levels of sheep slaughter. Indeed, from July to November weekly mutton slaughter rates have been trending 30% higher than the seasonal average but it hasn't been enough supply to soften prices significantly. Offshore demand is continuing to soak up the excess it appears – stay tuned for an update on mutton exports next week.
What does it mean/next week?:
As our analysis yesterday pointed out, it appears the Victorian spring flush for Bendigo is completed and Ballarat's numbers are looking to peak soon too. That only really leaves Hamilton as the remaining saleyard to contribute to the final surge of lambs as we head toward the end of the year.
Downside for the ESTLI is probably going to be limited to the 630-650¢ region as outlined in our Mecardo analysis piece from 18th October entitled "A season spent at the edge of normal" and expect a recovery back above 700¢ reasonably quickly after the spring flush subsides.