Europe is looking dicey.
In this week's comment, we take a look at the decline of the European crop and the impact on pricing. At a local level, we provide observations on the Australian crop from some of our travels around the nation.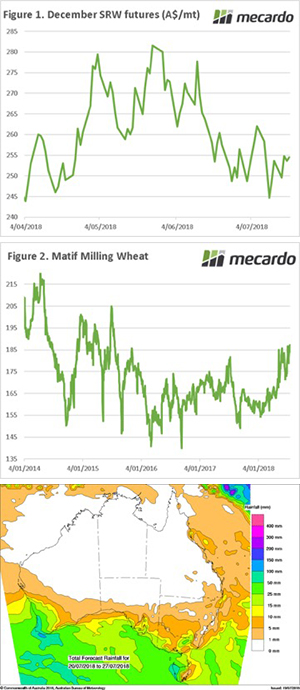 The futures market has largely traded sideways during the past week. The December 2018 contract is currently trading at A$254.5, up A$1 week on week (Figure 1). In the past week, there has been a lack of fresh information to fuel a substantive move in either direction.
The major emerging concern is the European crop. France may have won the world cup, but they won't win any trophy for their wheat crop. Germany, France and UK are experiencing a very poor growing season. There were mixed opinions from local analysts in recent weeks regarding the condition of the crop. The general consensus is now that it's in dire straits. Recent weeks have seen European futures rise, with matif (French wheat) at the highest level since November 2015 (Figure 2).
I have spent the last few days in Western Australia and it is chalk and cheese. In the central and northern parts of the wheat belt, the crop is in great condition with further rainfall en route. The south however, especially through the great southern and Esperance, are suffering and unfortunately are going to miss out on the forecast rainfall over the next eight days (see map).
The biggest concern remains the NNSW and QLD regions. These regions are now set for a below average yield regardless of any rainfall, of which there is none on the horizon anyway. This region is home to a colossal feed requirement and will require continued movements of grain from the south to meet demand. This will likely lead to continued high east coast basis.
What does it mean/next week?:
The market will start to look more closely at Europe over the next week, which could result in improved futures levels.
Next week we will look into a range of different futures contracts and whether they are a worthwhile endeavour at present for hedging, such as matif and the new black sea futures.