Forecast says more cattle coming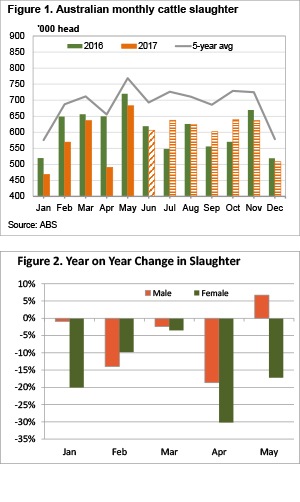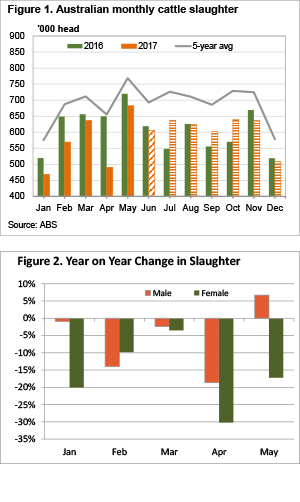 As we move past the half way mark of the year we can start to get an idea of how cattle supply is faring relative to industry forecasts. Those looking to sell cattle in the second half of the year will not only be hoping the weather does the right thing, but also that Meat and Livestock Australia's (MLA) total cattle slaughter forecasts are an overestimate.
MLA's latest cattle projection forecasts, released in April, pegged 2017 national cattle slaughter at 7.1 million head. According to the Australian Bureau of Statistics (ABS) the first five months of 2017 saw 2.84 million head of cattle go over the hooks. According to MLA's weekly slaughter figures June cattle slaughter was around 2% behind 2016.
Figure 1 shows that using the ABS figures, and MLA's numbers for June, has 2017 slaughter trading well behind 2016. Our estimate puts cattle slaughter for the first half of 2017 at 3.45 million head, 9.4% lower than 2016. More importantly, the total number of cattle slaughtered to the end of June is just 48.6% of MLA's annual forecast.
For July to December we have applied average seasonality to the number of cattle which still need to be slaughtered to reach 7.1 million head. For the July to December period cattle slaughter will have to lift 5% on last year's levels.
July 2016 was a very low slaughter month, as were September and October, when compared to the five year average. This is why figure 1 has most of the increased slaughter for the second half of the year in those months.
Figure 2 shows that the herd rebuild in the first five months saw the year on year decline in female slaughter outstrip their male counterparts. Up until May female cattle slaughter was down 16%, while male slaughter was down just 6%. Male slaughter was actually higher than last year in May.
On face value we can say that if supply is to pick up in the second half of the year, were more likely to see an increase in cows and heifers, than steers or bullocks.
Key points:
Cattle slaughter for the first half of 2017 has been 9.4% lower than 2016, and not on track to meet forecasts.
If Australian cattle slaughter is to meet forecasts, it will have to be 5% higher than last year.
An increase in cattle supply is likely to see prices remain below 2016 over the coming months.
What does this mean?
Simple economic theory says that higher supply, and steady demand, will result in lower prices. We are already seeing lower prices than last year in cattle markets, but the question is, how much lower can prices go? Given where export beef markets are sitting, and the fact we should be hitting the seasonal low point for cattle supply, it's hard to see too much further downside in the short term.
However, if it remains dry we head into September, the increased supply could push the EYCI back towards the low 500¢ level. Downside is likely to be stronger for cows, while heavy slaughter steers are likely to fare better, as supplies haven't been held back as hard in the first half of the year.