Global supplies up but local take no notice.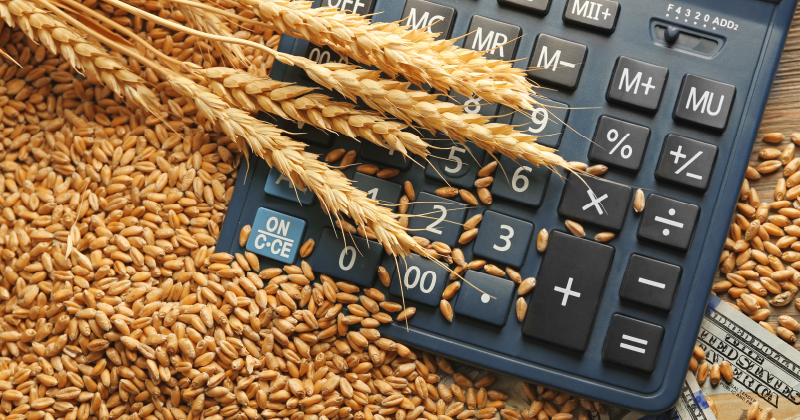 The second of the major supply reports of interest this week was the World Agricultural Supply and Demand Estimates (WASDE), released on Wednesday night. The United States Department of Agriculture (USDA) surprised the market by lifting production estimates for good crops, more than it cut estimates for bad crops.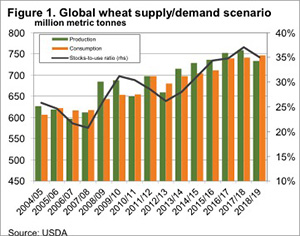 The USDA stripped 2mmt off the Australian crop and 1mmt off Canada. Both being major exporters of wheat, this could be expected to initiate price support. However, the cuts were offset by a 3mmt lift in Russia and 0.5mmt in Kazakhstan. Apart from being the home of Borat, Kazakhstan is also an exporter of wheat. Both Black Sea countries are reporting good harvests to date, so the lift was somewhat on the back of actual supply, rather than estimates.
The impact on global supplies was a 0.5% lift in production and 1% lift in ending stocks. Figure 1 shows the stocks to use ratio sits at 35%. Down on last year but still very strong. It's little wonder the CBOT Soft Red Wheat market fell back to 503¢/bu, a two month low.
To local markets, it seems the CBOT Dec-18 fall to around $270/t in our terms was of little consequence. Local markets actually gained ground, with wheat rallying to new highs across many markets.
In terms of international markets, we are now more interested in what they can do for us in the 2019-20 market. With CBOT at $285 in our terms, we might have to wait a little longer for it to hit the magic $300 mark.
What does it mean/next week?:
There doesn't appear to be a lot of downside for local markets at the moment. As outlined in the ABARES report earlier in the week, supply relief isn't likely to appear until at least the northern sorghum crop appears in March. That will require some rain, which is yet to appear on any forecasts.