Growers put a floor in the lamb price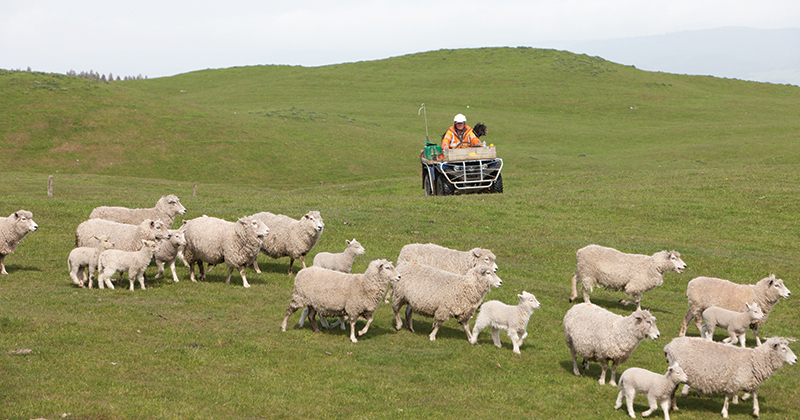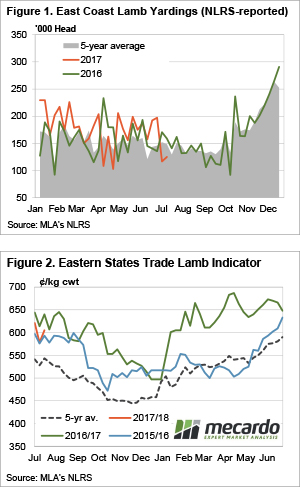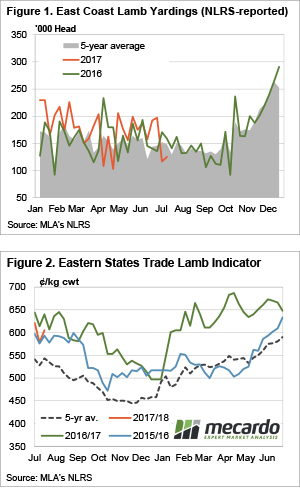 It's nice to be right sometimes, even if it is only for a week. The weekly comment last week suggested the slide in lamb prices was about to halt, and halt it did. The market even bounced back above 600¢ as lamb and sheep yardings recorded another weak week.
Figure 1 shows what lamb producers think of the saleyard values on offer over the last couple of weeks. East Coast lamb yardings spent their second week in a row close to the lowest levels seen in 2017. It's been over 12 years since lamb yardings were this low in the first two weeks of July, and it seems to have started to bite on the supply of lambs to works.
The Eastern States Trade Lamb Indicator (ESTLI) bounced this week (figure 2), gaining 27¢ to move back to 605¢/kg cwt. NSW and Victoria both had strong rallies, while in South Australia the trade lamb indicator inexplicably 37¢ to sit in the doldrums at 495¢/kg cwt. SA price are 110¢ behind the ESTLI, and we would expect them to climb back up next week.
In the West trade lambs are keeping pace with their eastern cousins, sitting at 610¢/kg cwt. WA Mutton fell through 400¢ this week, setting an 8 week low of 374¢/kg cwt. East coast mutton values also eased, but remain better than the west, averaging 434¢ in Victoria and NSW. SA has the cheapest mutton as well, sitting at 340¢, and this was up 39¢ for the week.
The week ahead
So was the rise in the ESTLI a dead cat bounce, or a sign of the market steadying. Supply would have to pick up from here to send lamb prices lower, and at this time of year it's usually hard to find many prime lambs. We might see lamb prices above 600¢ for the rest of July, at least until new season lambs start to hit the market.
Mutton supply is less predictable, as there are always sheep out there is seasonal conditions push them to market. A good rain will see sheep prices rally, but there doesn't appear to be too much on the forecast.