Hat eating ceremony postponed.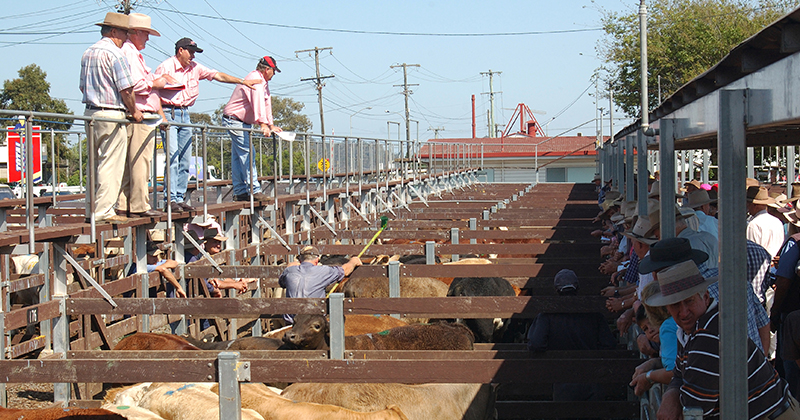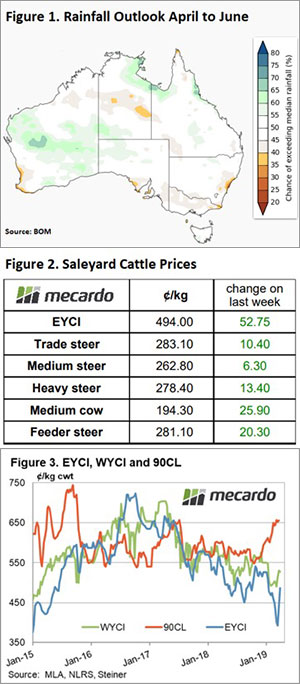 A fortnight ago the Eastern Young Cattle Indicator (EYCI) was trading under 400¢ and I made the bold statement that I'd eat my hat if it kept going lower. Thankfully, some significant rain to Queensland in the last week has seen cattle prices rebound. Although, according to the Bureau of Meteorology (BOM) we are not out of the woods yet.
Further to my hat eating comment, Mecardo released analysis in late February suggesting that the EYCI would find some significant support near the 400-420¢ level based on some key technical indicators. Granted, we dipped briefly to 385¢. However, the strength of the rebound in price from the low 400s has been resounding. Yesterday the EYCI closed at 494¢/kg cwt.
Rainfall of 100-200mm has been noted for significant areas of south western Queensland, thanks to the remnant activity of tropical cyclone Trevor helping to boost optimism amongst cattle producers. The updated three-month rainfall outlook released yesterday paints a pretty good picture with almost all the country expected to see a 50/50 chance of an average Autumn break, in terms of rainfall – Figure 1.
There was a caveat included in the forecast and a warning. The BOM noted that the El Nino Southern Oscillation (ENSO) indicator had moved from watch to alert, which means the prospect of an El Nino forming in 2019 is now a 70% chance which is three times the normal likelihood. The BOM warned a move to El Nino could have significant negative impact on the current rainfall outlook.
Nevertheless, cattle prices across the board mirrored the recovery in the EYCI with all NLRS reported categories along the east coast posting gains between 2-13% on the week (Figure 2). In the West young cattle prices softened, albeit slightly, with the WYCI down 3¢ on the week. Offshore, the 90CL frozen cow indicator remains firm with a gain of 2.4¢ to close at 655.5¢/kg CIF – Figure 3.
Next week
The eastern halves of Queensland, NSW and Victoria are set to receive between 10-50mm in the coming week which should continue to provide broad support for cattle prices. Although, given the strength of the rally in the EYCI in the last week I wouldn't be surprised to see the magnitude of the price increase ease and settle into a consolidation phase for the next few weeks.