Have you (ever) seen the rain?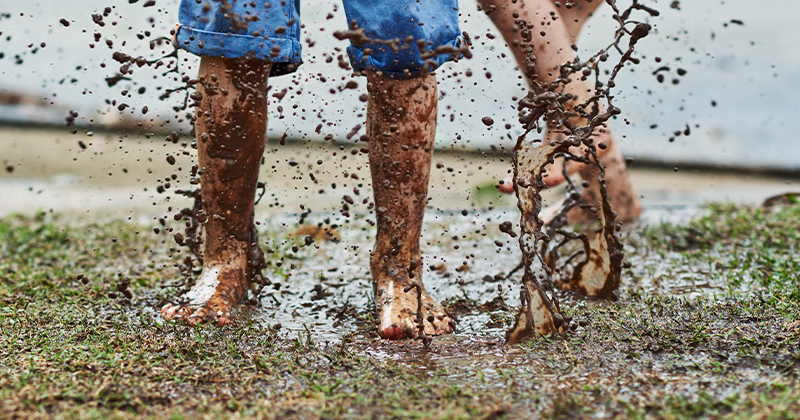 "Someone told me long ago. There's a calm before the storm. I know it's been comin' for some time" and it arrived this week with some excellent rainfall to many areas in need. Combined with an improved three-month outlook from the Bureau of Meteorology (BOM) it helped give cattle markets a lift for the first trading week of 2020.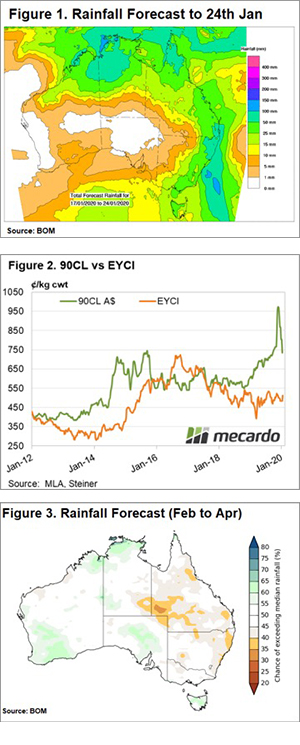 Social media abounded with images of water flowing across previously parched grounds and filling dams, not to mention aiding firefighters in fire-affected areas. Falls up to 50 mm were reported in places that hadn't seen rain for a long time, particularly through northern NSW and Western Queensland.
The good news is that it isn't over yet, as Figure 1 highlights, there is more in store for the coming week across the eastern seaboard. Cattle markets responded well to the news with modest gains of 5¢ to 45¢/kg lwt across most cattle types throughout the eastern states.
On the MLA reported national indicator cattle categories yearling steers purchased by restockers showed the strongest gains on the week, up 22.5¢ to 265.6¢/kg lwt. Medium cow also managed a strong showing with a 21.1¢ lift to finish at 205.3¢/kg lwt. The Eastern Young Cattle Indicator (EYCI) mirroring the broader market to see a 38¢ lift over the week, closing at 515.5¢/kg cwt – Figure 2.
As we pointed out in our analysis earlier this week the 90CL manufactured beef export price to the US has eased significantly from its 2019 peak, but thankfully the weather trumped the international beef market moves. Furthermore, there is still a huge gap for the EYCI to make up should climatic conditions remain favorable for an extended period and begin to encourage restockers back into the market in a serious manner.
Next week
The mid-month BOM rainfall forecast release shows there is some hope for the first quarter of 2020 with much of the country showing a 50/50 chance of a wetter or drier than average outcome – Figure 3. I know a 50/50 chance isn't too much to get excited by just yet, but it is the most positive long-range forecast we have seen in some time.
The BOM suggests that the two key factors that had been keeping moisture away from the continent (a positive Indian Ocean Dipole and a negative Southern Annular mode) are now breaking down, allowing an improved chance of rainfall events occurring. Certainly, the week ahead is looking promising and this should give credence to a continued revival in cattle markets in the short term.