Heavy slaughter to see new flock lows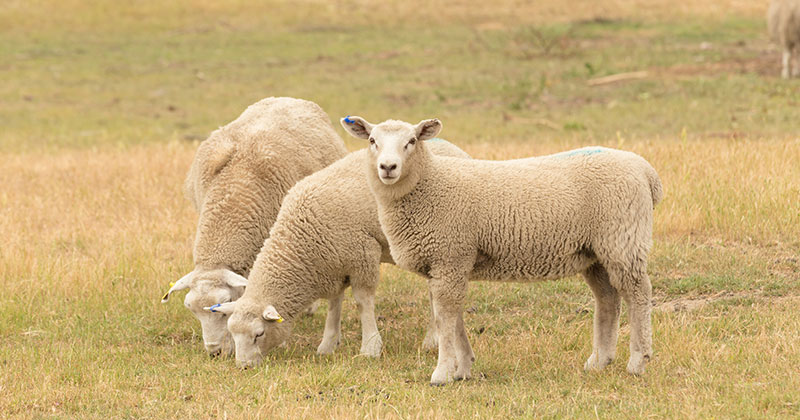 MLA have only made minor changes to flock and lamb supply forecasts for the coming years.
The 2018 flock was 3 million head higher than the January estimate.
Sheep supplies are forecast for fall, but it may not be enough for a flock rebuid.
Meat and Livestock Australia (MLA) released their Industry Projections for sheep last week.  There were a few surprises, notably the steady lamb slaughter forecasts, along with relatively stable flock forecasts for the coming four years.  A higher than expected 2018 sheep flock has been dwindled down with sheep slaughter for the first four months of 2019 25% higher than last year.
While heavy sheep slaughter early this year could be expected to see even lower flock numbers than the January projections, a key alteration has seen things remain relatively steady.  MLA estimated the closing (June 30) 2018 flock in January was 67.73 million head.  The actual number, provided by the Australian Bureau of Statistics, (ABS) was 70.61 million head.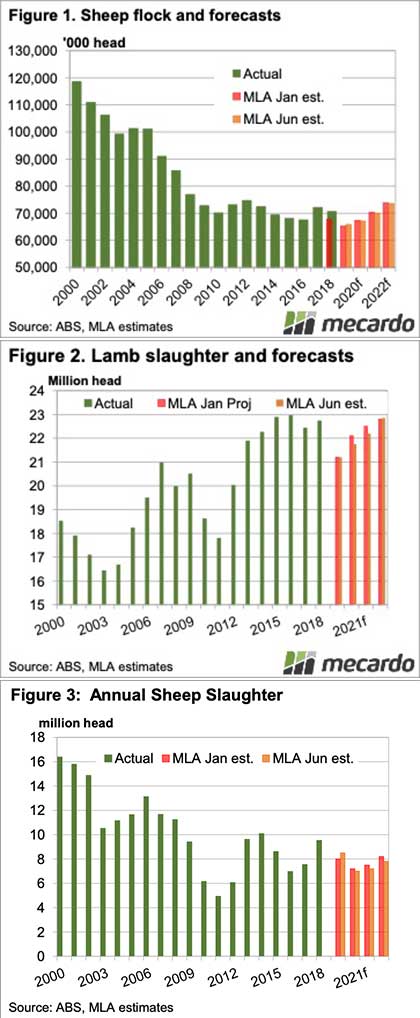 MLA are now forecasting a bigger fall in the flock this year, with the June 30 2019 number coming in at a new low of 65.26 million head (figure 1), down 7.6% on the final 2018 number.  The new forecast for 2019 is 1% higher than the January forecast, so the higher than expected flock at June 2018 has compensated for heavy slaughter thus far in 2019
The projections for lamb slaughter for the coming four years are little changed from January.  Figure 2 shows the 2019 forecast remains the same, while for 2020 and 2021 the forecasts have been cut by 1.5%.  Lamb slaughter is expected to be back near record levels in 2022.
The biggest revision came in the 2019 sheep slaughter forecast, which was increased 6% to 8.5 million head (Figure 3).  Sheep slaughter forecasts for 2020-2022 have been revised 3-5% lower, but this may not be enough.
Last week's article looked at previous sheep slaughter levels, and where they needed to be for the flock to grow.  Sheep offtake needs to be lower than 10% for the flock to grow.  From a flock low this year of 65.26 million head, sheep slaughter will have to be 6.5 million head, and likely lower for the flock to grow.
What does it mean/next week?:
Even at the supply levels forecast by MLA last week sheep and lamb prices are going to remain very strong for the coming two or three years.  We think supplies could be even lower than MLA are forecasting, especially if the flock is grow by 8 million head over the next four years.
There is likely to be a drag on lamb supplies as well, with more females and merino's likely to be held to join the flock, which will obviously add plenty of support at the sale yard level.