How far the winter peak?
Cattle prices received a welcome bounce this week as yardings declined from their post short week lows.  This is following a week when slaughter reached a 2017 high.  It looks like we might have seen the May low, with a question of how far is the winter peak?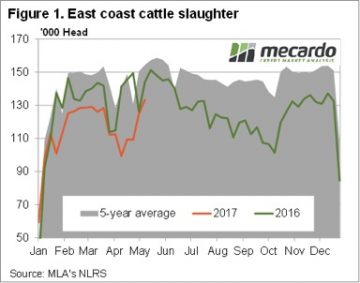 Figure 1 shows that east coast cattle slaughter reached its strongest level since December in the week ending the 12th of May. It's interesting that this is around the time cattle slaughter traditionally peaks, as cattle out of Queensland bolster stocks.
This week it was a case of tightening supply, with east coast cattle yardings falling 20% as lower prices saw growers hold stock back.  Yardings were, however, still stronger they have been for much of Autumn.
The Eastern Young Cattle Indicator had a rally on the back of tighter supply.  The EYCI gained 16¢ for the week, getting back up to 650¢/kg cwt.  Figure 3 shows us that while we had to put the ten year average on a different axis, the EYCI does traditionally rise from this week through to the end of August.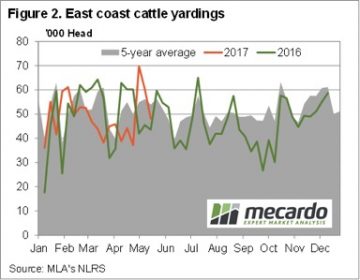 While it is difficult to envision the EYCI getting back to 700¢ this winter, the 90CL export price is doing the right thing, having rallied to 650¢/kg cwt.  In fact, the EYCI and 90CL are back at level pegging for the first time since this around this last year.
The week ahead
If the Autumn low was 634¢ it bodes pretty well for cattle producers over the next three months.  A standard 10% winter rally will take the EYCI through 700¢.  The forecast rain for the next few days might see the rally come sooner rather than later.