I see red, I see red, I see red, and it's not Valentine's roses.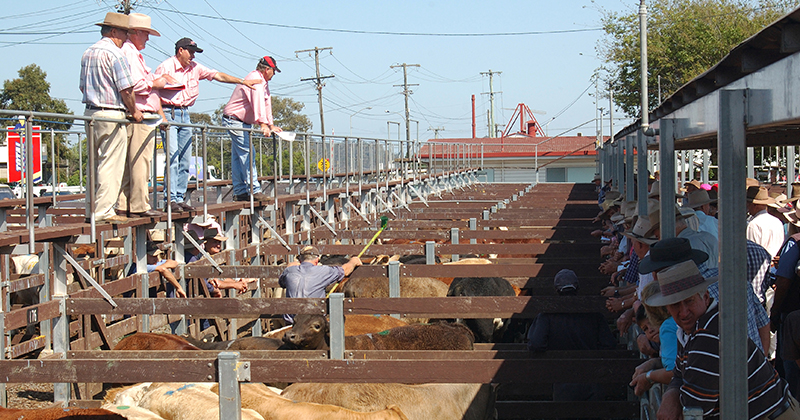 Softening cattle prices across the board this week and all major NLRS reported categories of cattle across the East coast are now below levels recorded this time last season, including Heavy Steers, albeit marginally. However, some respite may be on the horizon thanks to an improved BOM outlook.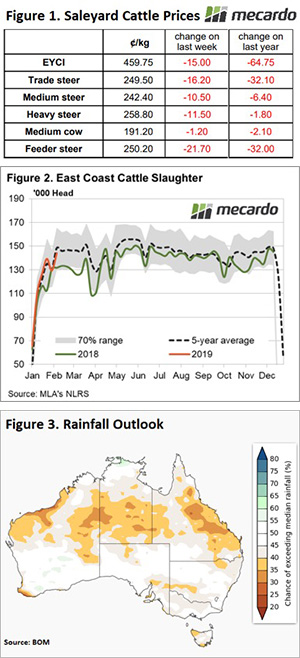 East coast cattle sale yard prices and movements, for the week and year, are listed in Figure 1 and it shows there wasn't much romance for cattle producers during Valentine's week. Feeder Steers posting the largest percentage fall with an 8.7% decline to close at 250¢/kg cwt live weight, 11% lower than where they were this time last year.
The Eastern Young Cattle Indicator (EYCI) registering somewhat muted declines, peeling off 3.3% on the week to finish a whisker under 460¢/kg cwt. Remaining steer categories easing between 4%-6.5%, while Medium Cow managed the best with the slightest of declines to close the week at 191¢/kg lwt. Young cattle in Western Australian markets also managing to trek sideways to see the WYCI finish just a few cents under 500¢/kg cwt.
Cattle slaughter levels since the start of 2019 have been closely following the five-year average seasonal pattern but have been running 8.6% above the levels seen last season. The additional supply a possible reason why we have seen cattle prices drift below levels recorded this time last year – Figure 2.
The Bureau of Meteorology (BOM) providing a bit of a Valentine's gift for cattle producers though. Their preliminary three-month rainfall outlook, released on the 14th of February, showing a reasonably average start to the Autumn break for nearly all the Southern regions and patches of slightly drier areas in North Western WA, southern NT and Eastern Queensland – Figure 3.
Offshore beef export markets in the US also offering some love with the 90CL climbing to its highest level since mid-2017 to close above 625¢/kg CIF as a combination of reduced imported offerings, improved domestic US prices and increased US domestic demand have helped support imported grinding beef levels.
Next week
The combination of solid beef export prices and the first sign of an improved rainfall forecast should be enough to provide some support to cattle prices in the short term. A more in-depth rainfall outlook will be provided by the BOM at the end of the month and the closer we get to Autumn their forecast accuracy improves and may begin to encourage some restocking, at least in the south.