Increased yardings, easing prices.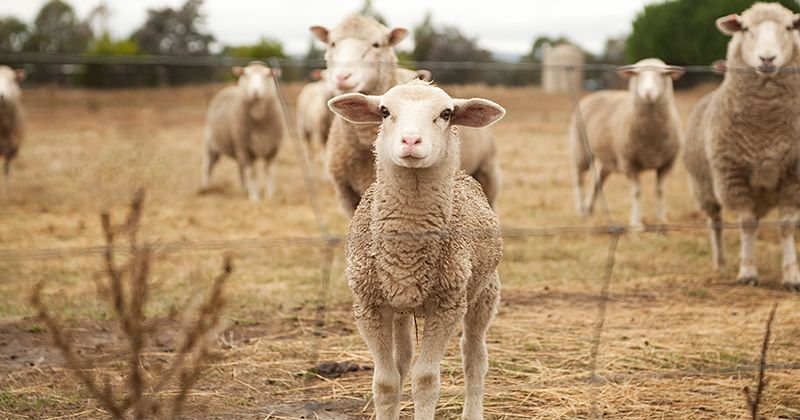 A rebound in lamb yarding levels along the East coast was noted this week as the sales program returns to normal post the Victorian Spring Carnival events. The increased supply is weighing on prices marginally, despite the support offered by some reasonable rain to the Eastern half of Victoria and NSW.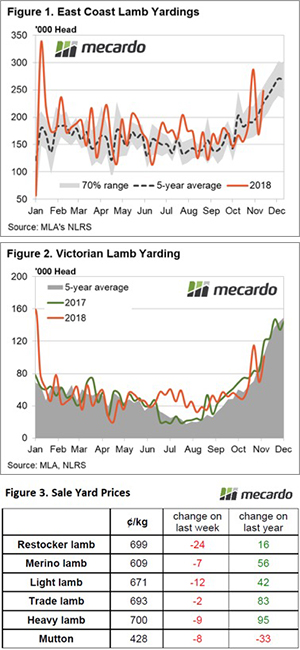 Lamb throughput levels increased 47% on last week's lull in saleyard offerings, to see it back above the seasonal average by 10% as nearly 250,000 head changed hands (Figure 1). All mainland states contributed to the increase in lamb yarding with NSW lamb throughput levels showing uncharacteristically high volumes for this time in the year, sitting 36% above the five-year average.
South Australian lamb yardings saw a gain of 37% on the week but appear to have reached their spring flush peak a fortnight ago, now sitting 12% under the five-year seasonal average trend. Victorian lamb throughput is back on track for a Spring flush peak during November/December, staging a 46% rebound from last week to see over 101,000 head yarded (Figure 2).
The increased supply of lamb is weighing slightly on prices across the East coast with all NLRS reported categories of lamb registering falls between 2 – 24¢. The Eastern States Trade Lamb Indicator (ESTLI) lost the least ground in the face of the additional lamb numbers, closing yesterday at 693¢/kg cwt (Figure 3).
In the West, trade lambs are continuing to play catch up to the Eastern states prices with a 17¢ increase on the week to close at 641¢/kg cwt. The WATLI managed to climb despite lamb throughput levels running 54% above the seasonal average.
What does it mean/next week?:
With rainfall for the next week mainly confined to Southern Victoria, there isn't an obvious catalyst to get lamb and sheep prices probing higher. The Victorian spring flush still has a few more weeks to run, so price pressure on lambs is likely to continue to persist into the short term but don't expect them to drop away too far. Consolidation in price at current levels is probably the most likely scenario over the next few weeks.