It doesn't rain grass but there might be some upside.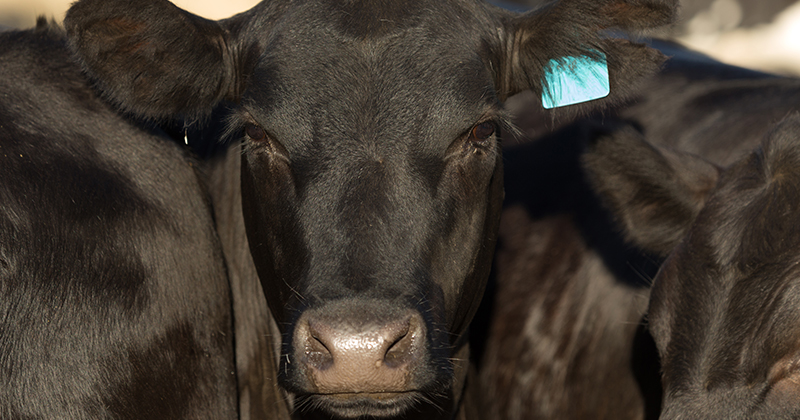 With a little bit of precipitation on the forecast, there is also a bit of positivity around the young cattle price. While it doesn't rain grass, or demand, a forecast of rain will often halt supply. It seems we have seen the beginning this week.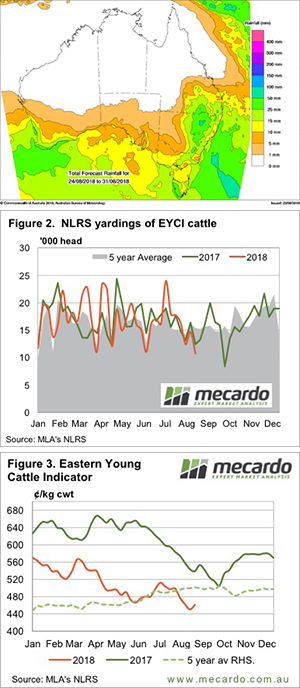 The talk around the footy sheds last night was around buying cattle before rain tightens supply. This was in South West Victoria where normal winter rain has fallen, so the flush of grass is just around the corner and backgrounders are looking to load up.
It hasn't rained yet, but the forecasts are promising. As usual, the Bureau of Meteorology (BOM) are the most conservative (Figure 1), but two inches over a large part of Northern NSW would obviously be a start.
We're not sure if it's the spectre of rain, but the Eastern Young Cattle Indicator yardings hit a new full week low of just 10,730 head (Figure 2). This was 26% lower than the previous week and 35% lower than this time last year.
It may have been the low prices which pulled back supply, and this was somewhat corrected this week, with a 10.5¢ rise in the Eastern Young Cattle Indicator (EYCI) to 461¢/kg cwt on Thursday (Figure 3).
The weaker Aussie dollar gave export prices a bit of a boost this week. The 90CL Frozen Cow managed to gain 5¢ to hit 580¢/kg swt despite a small decline in US values.
Finished cattle markets have managed to maintain their ground at a solid premium to store cattle prices. Even export feeder cattle are still around 300¢, well above their domestic counterparts at 259¢/kg lwt.
What does it mean/next week?:
There are only so many cattle that can be soaked up by wet parts of Victoria and South East SA, but they will offer some demand for the next month or so if it keeps raining.  The rain in Northern NSW should see some tightening in supply, as growers wait to see if it's going to be followed up. There should be a little bit of price upside, with the limit likely to be 500¢ for now. More widespread rain would obviously change this.