It's a buy opportunity if you've got feed.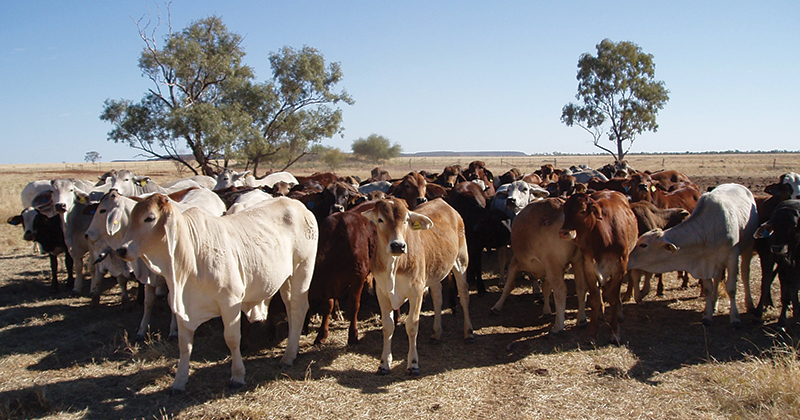 The Eastern Young Cattle Indicator's (EYCI) decline continued this week. We're not seeing finished cattle prices being dragged lower, especially not in the south, as the supply of slaughter ready cattle is weakening due to the dry. It's not great for young cattle producers, but good news for traders.
The EYCI eased another 25¢ this week, heading back through support at the 514.50¢/kg cwt level. No doubt the fact that there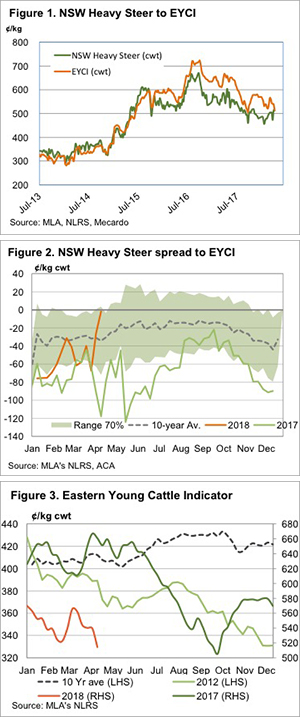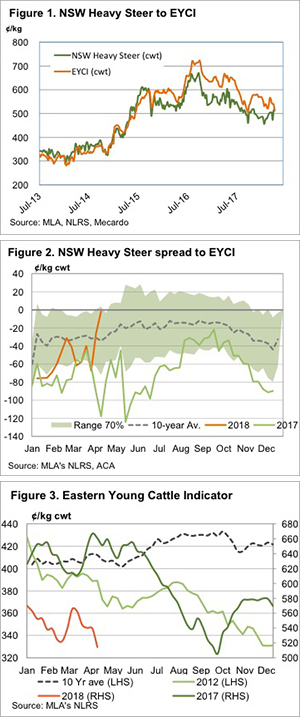 has been no real rain in April, in addition to the usual increase in young cattle supply in Northern NSW, is helping drive the EYCI lower.
Heavy cattle prices remain relatively strong however. The NSW Heavy Steer Indicator (figure 1) is actually sitting close to a nine-month high, at 512¢/kg cwt. The 2¢ discount for the Heavy Steer is as close as it's been to the EYCI since spring 2015.
A relatively small spread between finished cattle and young cattle is not unusual for this time of year, but it's not something we've seen during the herd rebuild. It suggests the young cattle supply is approaching normal, but the tight spread is obviously partly driven by the dry summer in NSW, Victoria and South Australia.
The bad news for cattle producers is that seasonality suggests that continued dry conditions are likely to see young cattle prices continue to fall. Figure 3 shows that the fall usually runs until at least May, and this could see the EYCI below 500¢ for the first time since the first half of 2015.
The week ahead
There's not a lot of precipitation on the forecast, so we might see young cattle prices continue to ease next week.
There is opportunity for restockers to buy at close to 3 year low prices, and the fact that heavy cattle values are holding strong gives an indication that the finished cattle market might find support, making a good trade.