It's a rare thing for cattle prices to fall in June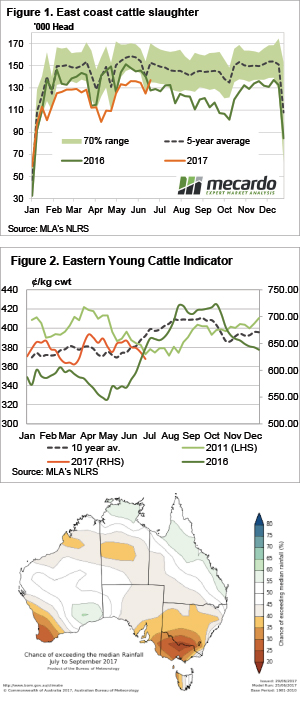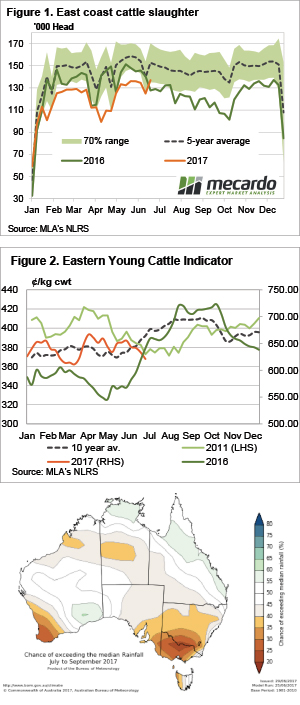 Here's a quiz question. When was the last time the Eastern Young Cattle Indicator (EYCI) finished June lower than it started? You'll have to read the article to find out….
Young cattle markets continued to slide this week, the EYCI dropped another 12¢ to finish the week, and the month at 621¢/kg cwt. Dry weather and historically high prices appear to be driving cattle to market as a time when supply is usually tightening.
Nothing exceptional is happening with cattle yardings, they were down a touch this week, and largely in line with the same week of the last two years. Cattle slaughter is doing strange things however. In the week ending last Friday, east coast cattle slaughter reached a peak for 2017, setting a 7 month high.
Figure 1 shows MLA's weekly cattle slaughter figures hitting 137,019 head, 7% higher than the same week last year. It was also the first time weekly slaughter had been higher than the previous year since this exact week back in 2015.
If something sounds familiar, but backwards, it's because we have been banging on in recent weeks about prices falling below the same time last year for the first time. It was the EYCI's turn this week (figure 2), posting a lower price than the same week in the previous year for the first time since March 2014.
It's always a nice fit to see stronger supply than last year equating to weaker prices. It tells us demand is relatively steady, with price being governed by supply.
The week ahead
The answer to the question is given away in figure 2. In 2011 the EYCI finished June lower than it started, by 24¢. This year it was 34¢. It also happened in 2003, so that's 3 out of 18 years cattle prices have fallen in June. It's not a regular occurrence. The good news for cattle producers is that in 2011 prices levelled out, but figure 3 shows this might just be the start of the slide.