It's so hot that the trees are whistling for the dogs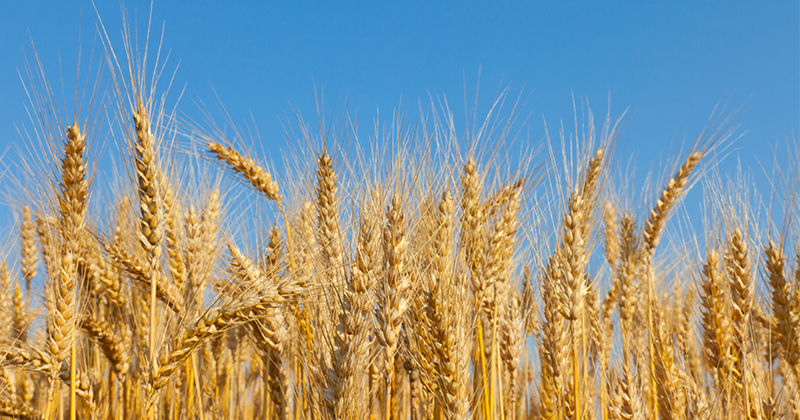 The markets have been quite quiet in recent days. In this weeks comment we are looking overseas at bearish wheat planting numbers, and the impact of heat on electricity demand.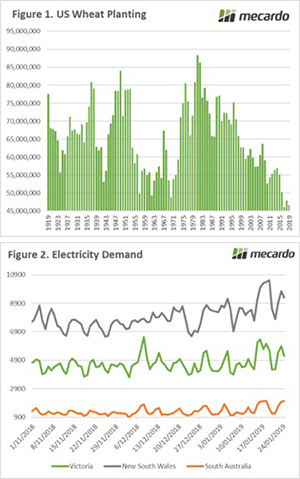 In lieu of data from the USDA, private forecasts become more important. Farm Futures in the US have conducted a survey of producers in order to gain an insight into planting expectations. It is anticipated that corn will rise by 1.3% year on year. There will however be major downward revisions to tariff impacted soybeans and sorghum with a substantial 5.5% and 12.1% reduction.
Wheat continues to lose popularity in the US, with planting levels for all wheat (spring, winter & durum) are at 46.6 million acres. This is the second lowest level in the past century (figure 1), the lowest being two years ago in 2017. Although technology has meant that yields are drastically improved from the past, this does place the US in a poor position if the weather turns poor in the growing season.
Yesterday South Australia sweltered through record temperatures, and Victoria is going to be hit with hot temperatures (and some strong winds in places). As temperatures increase demand (figure 2) on power infrastructure increases due to the number of people (myself included) sitting in air-conditioned rooms.
The weather is also starting to impact heavily upon the sorghum crop. The beneficial rainfall in December in NNSW and QLD has been followed up with dry weather, which has diminished the potential of the summer sorghum crop.
It's important to be aware of the risk of heat stress in these hot days, so ensure that you remain fully hydrated – and slip, slap, slop.
What does it mean/next week?:
The reduction in acreage in the US starts to point toward a market balancing further and further towards a bullish sentiment. It will only take a production issue in North America or the black sea region to see a strong upward movement.