Knife-edge market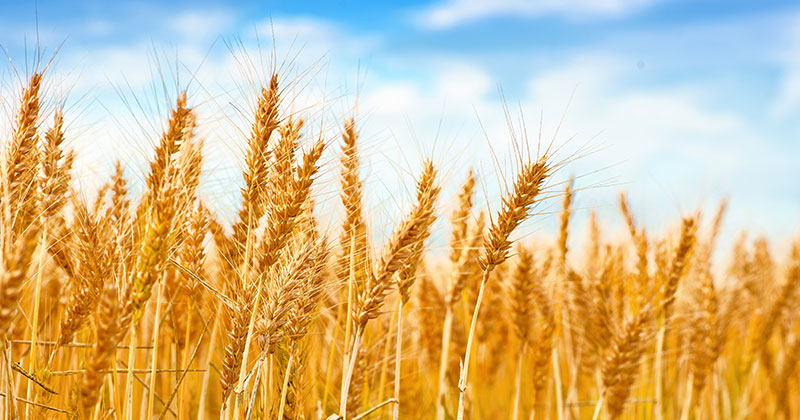 The midyear fall that has been a striking pattern in recent years has reoccurred during 2019. The middle of the year is always full of little surprises which can drive the market strongly but quite often the bearish fundamentals come back to bite.
The Chicago wheat futures market has fallen rapidly from recent highs in early June. The current December contract is now only 20¢ off the contract lows. This is concerning for farmers, however, the rise did provide growers with good opportunities to hedge at healthy levels.
There is a strong correlation between wheat and corn futures (see here), which means that when corn falls – wheat will follow. The market rallied due to excess water concerns and the reduced ability to plant the US corn crop.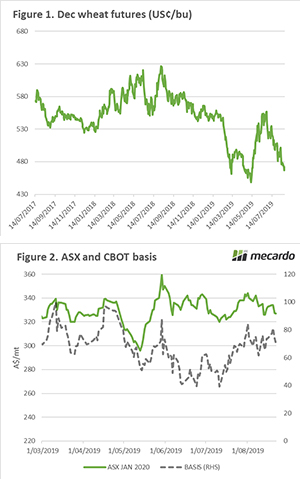 The USDA, however, has released report after report showing that planting and yields were strong. A sentiment which surprised many industry participants. Crop tours of the major corn belt regions have shown results which are variable but better than expected overall. This, in connection with benign weather which will help crop development, has led to a further bearish undertone.
Locally, the ASX contract has seen falls, with the harvest contract declining to A$327. The contract has stayed stubbornly strong despite falls in overseas levels, which has meant that basis has risen strongly. The east coast Australian crop is still on a very, very sharp knife-edge. The forthcoming critical growing period needs to provide rain for the regions that still have potential.
The trading range for ASX over the past six months has been extremely wide, with a low of A$296 to a high of A$359.50. These are levels which have provided attractive opportunities for both producers and consumers.
Remember to listen to our podcast
Next week?:
The trade participants will be digesting the insights from the US crop tours. If the weather across the corn belt continues to be conducive to the growth of the corn crop, I wouldn't be surprised to see pricing fall to May-contract lows.
Locally in Australia, it is a very tense time where all eyes continue to be on rain radars!