Lack of rain hampering EYCI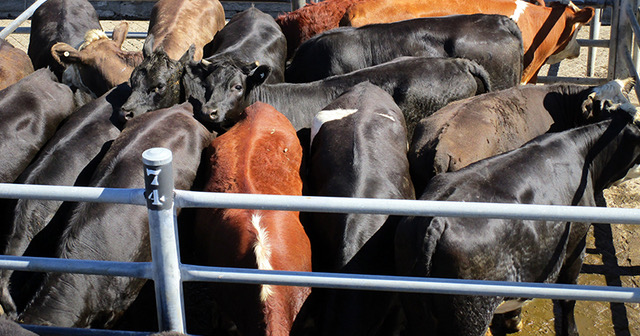 Softer cattle prices this week were noted, and impacts were felt most heavily on the younger cattle in the northern markets as the updated Bureau of Meteorology rainfall forecast for the next three months shows a troubling lead into Spring.
The Eastern Young Cattle Indicator (EYCI) closed 2.6% softer to finish the week at 474.5¢/kg cwt. Finished cattle were weaker too across the east coast with the Heavy Steer indicator shaving off 1.8% to close at 289.75¢/kg lwt.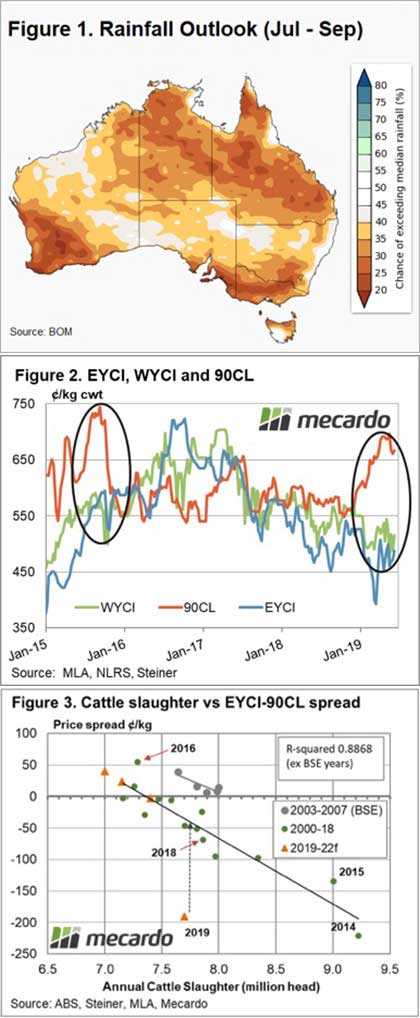 Restocker Steer prices between Victoria and NSW showing the impact of the recent Victoria rains with Victorian Restocker Steers commanding a 30¢ premium over NSW to record a 38¢ gain on the week to close at 258.4¢/kg lwt. Despite the rainfall in Victoria in recent weeks the longer-term outlook is worrying.
The mid-month rainfall outlook released yesterday shows low chances of exceeding median rainfall for much of the country as Winter comes to an end. Delving into the month by month rainfall summary shows that August is the best chance for rain in the northern NSW and southern Queensland region. However, across the entire three-month window chances of a drier than average finish to Winter across the southeast and south west of the country exceeds 75% – Figure 1.
Looking back to the final stages of the 2014/15 herd liquidation it was the dry conditions keeping young cattle prices subdued across Australia, despite offshore leading indicators like the 90CL rallying strongly. As the two circles demonstrate on Figure 2, a similar picture is emerging at present with the EYCI to 90CL spread moving to a significant discount like what transpired at the end of the 2014/15 liquidation.
Next week
Based on the current annual cattle slaughter projections and the historic relationship between slaughter levels and the EYCI to 90CL spread the EYCI should be around 150¢ higher – Figure 3. However, the lack of rain and the poor forecast for the remainder of Winter is weighing on young cattle prices.
The short-term outlook points to sideways price consolidation as limited rainfall will act as a significant headwind. In contrast, strong offshore prices, robust export demand and healthy processor margins continue to support the cattle market on any price dips.