Limited northern rain and high slaughter weighs on prices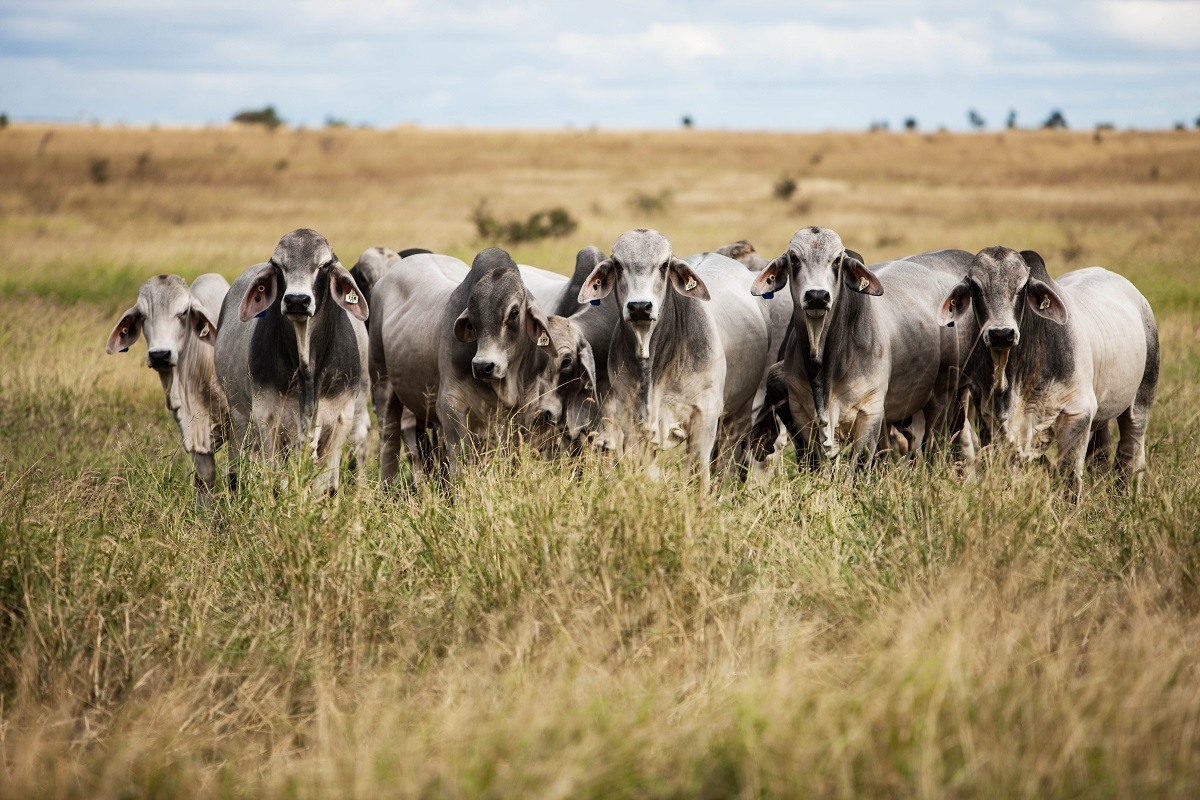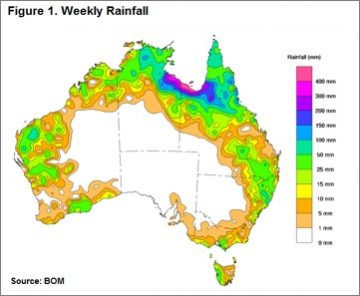 Much of NSW and south-east Queensland has received less than 30mm of rain this week and the drier/hotter than normal spell since the start of the year in the north, combined with the much drier than usual March to May rainfall outlook (recently released from the Bureau), seems to have brought forward some supply with Queensland slaughter levels still tracking higher this week weighing on the broader market.
Figure 1 highlights the rainfall pattern across the country since the 16th February showing reasonable levels of northern rainfall limited to the far north, a small patch in south east Queensland and north east NSW. Prices responding to the weather with declines averaging 2% noted for nearly all of the NLRS reported saleyard cattle categories this week in both Queensland and NSW, with Queensland trade steers the only group to buck the trend across the two states with a 13% gain to 316¢/kg lwt. Victoria and SA faring better, with SA trade steers leading the pack, up 9% to 327¢/kg lwt and Vic medium steers posting a respectable 5% rise to 316¢/kg lwt.
The higher supply being drawn out in the north evident in the slaughter figures for Queensland for the week ending 16th February shown in figure 2. A gain of 5% on the week to see it post slightly over 67,000 head, an increase of 15% on the same week last year.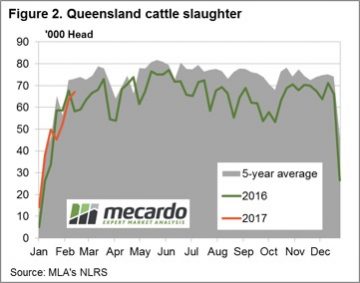 The northern price declines weighing on the Eastern Young Cattle Indicator (EYCI) to see it drift to lows not seen since June 2016 to close the week down 2.4% to 621.75¢/kg cwt – figure 3.
Although it's not all doom and gloom with the 90CL beef export price to the US posting a 1.6% gain to see it back above 600¢ in A$ terms and hitting highs not seen since August 2016 to close at 601.3¢/kg CIF.

The week ahead
Despite the spectre of drier than normal seasonal factors weighing on the market this week the relatively tight supply of cattle across the nation and improving export prices, which are likely to continue to be supported as the US move closer toward the "grilling season", should provide a base to broader cattle prices in the coming few weeks/months.
It's likely we are in for a bit of sideways movement between 580 – 650¢/kg cwt for the EYCI until the seasonal winter tightening of supply sees it peak around the 700¢ level.