Limited wet in North brings forward supply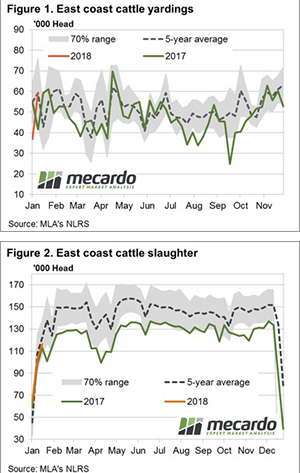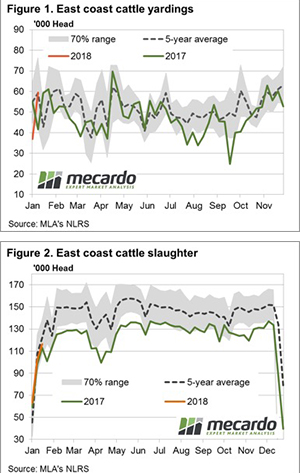 Weekly supply statistics showed a fairly normal pattern for the start of the season, with East coast figures hovering near to the longer term seasonal averages. Although Queensland and NSW throughput were slightly elevated for this time in the year as the Northern wet season continues to be delayed, weighing on prices.
A fancy animated chart shows the lack of rainfall that has impacted Queensland and NSW producers over the last fortnight, with higher than average weekly cattle throughput figures in these two regions noted as the dry conditions encourage supply.
Indeed, weekly cattle throughput in Queensland is running nearly 30% higher than the five-year average for this time in the season and NSW throughput isn't far behind, with 11% higher yarding levels.
However, lower than usual throughput in the remaining East coast states has seen the total East coast throughput sit nearer to the average seasonal levels, according to the five-year average pattern, with just over 59,000 head recorded this week – figure 1.
Weekly East coast slaughter volumes remains close to normal, 3% higher than this week in 2016 and 4.5% below the five-year average seasonal pattern – figure 2.
What does it mean/next week?:
The benchmark Eastern Young Cattle Indicator (EYCI) off 3.8% to 531.25¢/kg cwt in a move broadly mirrored by the national sale yard indicators last week. Heavy steers registering a 3.1% drop to 255.2¢/kg lwt. Restocker Steers one of the few categories to score a gain, up 2.2% to close at 334¢/kg lwt.
A bit surprising to see Restocker steers performing so well given the recent lack of Northern rain. Looking to the forecast Central Queensland not expected to get much moisture into the week ahead so don't expect young cattle prices to rebound too much in the short term.
Charts:
Rainfall animation to be included as first graphic (file saved in Mecardo/charts directory see link)