Lower production, lower prices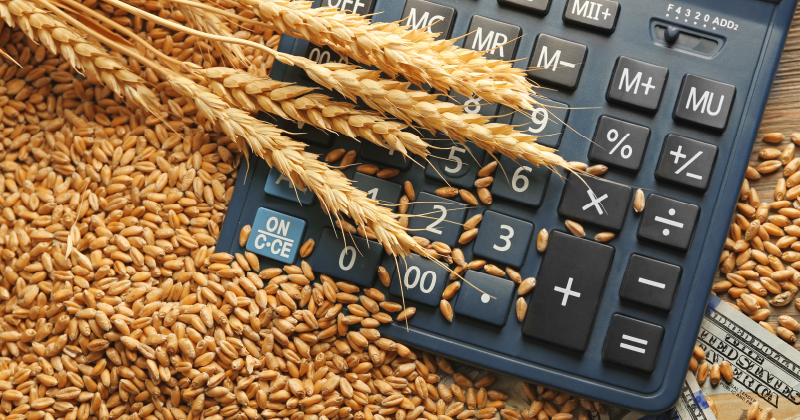 Many crop forecasters are calling the crop lower. It is therefore confusing for many why the price for cereals is dropping rather than rising. This time last year ASX wheat was A$444/mt, this week it is trading at A$353/mt. Why is that happening when the crop is in poor condition?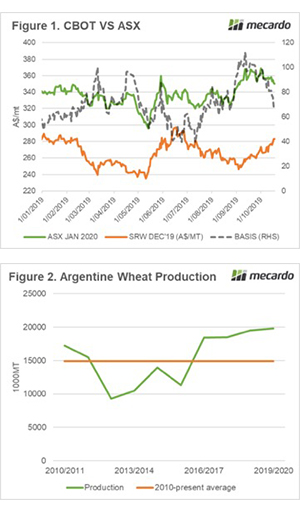 A small crop gets smaller is an adage that stands the test of time in Australia. The estimates for this year's wheat crop are varied from 15.5mmt to 18mmt. I personally think the headline number is irrelevant. In a year like this (and last year), we need to be thinking of Australia as two countries – east and west.
I have mentioned a number of times in our weekly podcast and a number of articles (here, here & here) that the distribution of grain in the country would lead to lower prices than last year. The headline number is liable to be around similar levels to last year, but that doesn't mean prices will be the same.
The ASX wheat contract rose during September, however, it has remained locked within a narrow trading range of A$350 to A$360 (Figure 1). In the past week, we have seen a softening of pricing with the average close this week at A$353. This is A$88 lower than the same week last year.
The ASX falling has come at a time when CBOT for a comparable period has been rising. This has resulted in basis falling to A$67. The high in recent months has been A$112.
Recent times have seen corn being the main driver, however, wheat led the charge in cereals overnight. This has resulted in December futures riding to a three month high. The market has been driven by wheat concerns around the world cold/snow (US & Canada) and dry (Australia & Argentina).
Early in the season, Argentina was on track to produce a record-breaking crop, with estimates up to 21mmt. However dry weather has resulted in a series of downgrades to 19.8mmt. This is 300km higher than last year and nearly 5mmt higher than the decade average (Figure 2). Although we may see production fall further, the impact on the record global balance sheet is likely to be minimal.
Next week:
The ASX market has fallen over the past week and is testing <A$350. If this occurs, we may see an uptick as consumers cover requirements at a lower level.
It is going to be a very volatile harvest as what grain that has been produced comes to market over the next two months.