Lower throughput and lower prices equals softer demand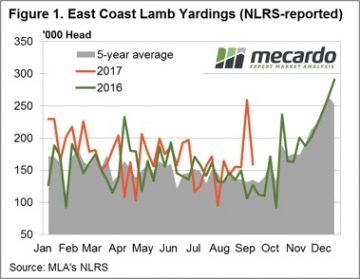 Mild price declines across the board noted for all categories of national saleyard lamb and sheep this week despite lower numbers at the saleyard. The headline Eastern States Trade Lamb Indicator (ESTLI) down 2.6% to close at 597¢/kg cwt, while National Mutton off just 1.2% to 400¢/kg as gains in NSW and Tasmanian mutton offset falls elsewhere.
Figure 1 highlights the drop in east coast lamb throughout this week as the spike in NSW supply from last week retraces. East coast throughput off 38.5% on the week to record just under 159,000 head of lamb change hands at the saleyard, dragged lower by a 40% decline in NSW lamb throughput and a 44% decrease in Victorian numbers.
East coast sheep yardings lower too on the week, albeit marginal, with a 5.4% drop noted to see just over 59,000 head sold – figure 2. Despite the decline, east coast sheep throughput still elevated for this time of the season in comparison to the levels set in 2016 and the five-year average on the back of higher than normal NSW sheep yardings. WA sheep yardings persistently higher than normal too this week (figure 3) and having an impact on prices there with WA mutton off 13.7% to 335¢/kg cwt.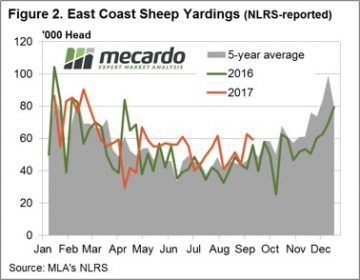 National saleyard lamb categories all softer this week with falls noted between 1-4%, Merino lamb leading the decline with a 3.8% drop to 539¢/kg cwt. National Trade and Heavy lambs the better performers, only down 1.8% (596¢) and 1.6% (601¢), respectively. The lower prices on the back of a reduced saleyard offering indicative of slightly weaker demand.
The week ahead
A rainfall forecast for the next week devoid of any significant moisture to all bar the south-western extremities of WA and the southern parts of Victoria isn't likely to provide much support for lamb and sheep prices nationally. Pasture in Victoria is still looking pretty good thanks to some regular Spring rainfall over the last fortnight, which may support some prices in the Southern areas, but the broader picture points to further mild price declines into next week.