Manna from heaven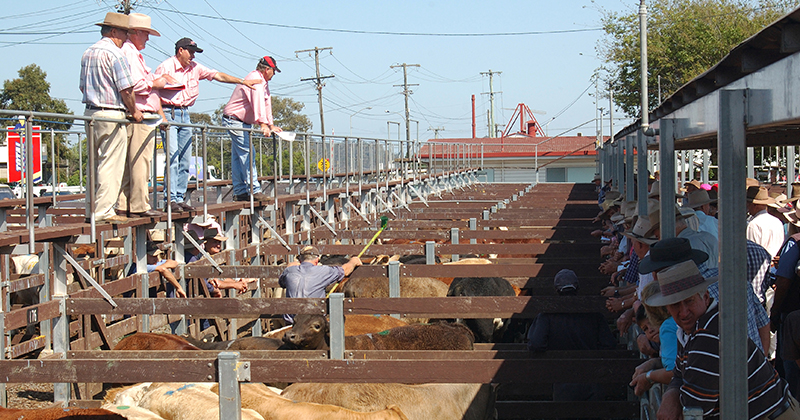 Well it doesn't rain grass, but it was great to see reasonable falls across much of the country this week. It's not going to green up the pasture right away, but it was enough to get some green splashed across the weekly cattle price movements reported by NLRS as sale yard numbers remain thin for this time in the season.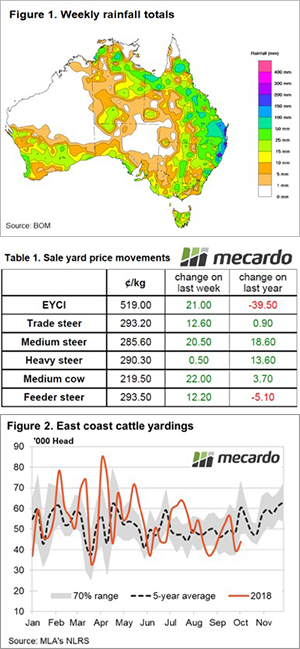 There wasn't much of the country that didn't get rain during the week, some unlucky spots only managed 5-10mm, but good swathes of the Eastern seaboard saw falls between 15-50mm. It was especially good to see the rainfall extend into the western regions of NSW – Figure 1.
First to show signs of green were the weekly price movement for East coast cattle with every NLRS reported category reporting a lift – Table 1. The Eastern Young Cattle Indicator (EYCI) posting a 4% gain to finished at 519¢/kg cwt. Medium Cow responding best to the damp with a 10% jump to 219.5¢/kg lwt, while Heavy Steer the least responsive managing just a 0.5¢ lift to close at 290.3¢/kg lwt.
Producers with Heavy Steers to turn off can't be too disappointed though with finished cattle prices managing to hold firm over the past few months in the face of declining store/young cattle values. Indeed, fat cattle still managing to hold 4.6% higher than where it was trading this time last season despite the tough seasonal conditions and an indication of the tight supply facing the market.
The most recent weekly East coast cattle throughput figures showing just how tight it is now. Cattle yardings running 27% below the five-year seasonal average for this time in the year and dipping below the lower boundary of the normal seasonal range with just under 44,000 head traded – Figure 2.
Young cattle in the West managing to replicate the East coast movements with a 2% lift on the week to see the WYCI close at 569.25¢/kg cwt, while offshore markets are holding firm with the 90CL Frozen Cow Indicator steady at 553.2¢/kg CIF.
Next week
Decent rainfall continues for all the eastern half of NSW and the south east pocket of Queensland next week which will continue to provide a boost to producers in these regions, but the remainder of the country returns to falls of less than 5mm.
It's unlikely to see the EYCI surge too far on the back of the recent rain and the spectre of an El Nino event still looms for the end of 2018, which will keep a bit of a cap on buyer enthusiasm for young cattle. Broad consolidation in prices still seem the order of the day.