Market pays no heed to supply warnings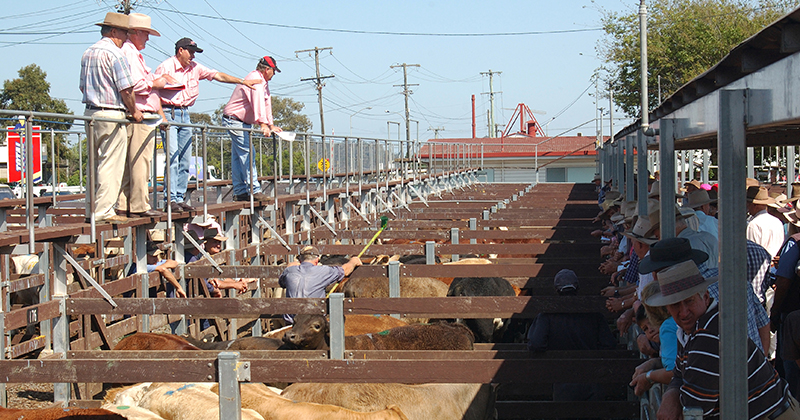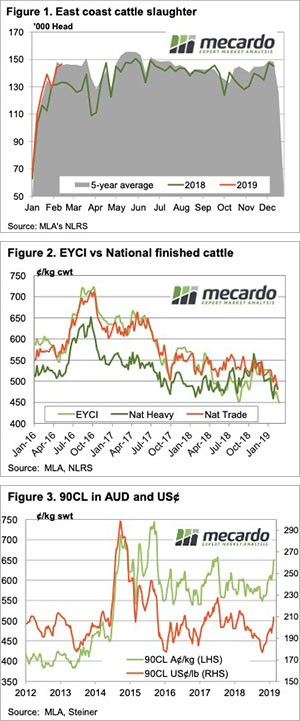 With everything pointing towards lower cattle supply, and grain prices on the wane, we would think the market should start taking heed at some stage. It was not this week though, with the downward trend in cattle prices extended.
Figure 1 gives a fair idea as to why cattle prices continue to fall. It has been four years since east coast cattle slaughter has been this strong at this time of year and it's running 10% ahead of this time last year.
Interestingly, heavy slaughter cattle prices are not that far below last year. The National Trade Steer is 19¢ below the same time last year, but Heavy Steers are 2¢ better (Figure 2). Restockers and Feeders are dragging the chain, and the Eastern Young Cattle Indicator (EYCI) is now 72¢ off last years levels, at 449.5¢/kg cwt. The EYCI hasn't been below 450¢ since April 2015 so looks like good buying.
Helping support finished cattle prices are rising 90CL export values. This week the price in US terms gained 6.5¢, while in our terms it was up 25¢. Figure 3 shows the increase in export values is nearing a 3 year high. In US terms the 90CL is heading towards a 10 month high.
It's not surprising given the cheaper grain and better season, but the Western Young Cattle Indicator remains at a premium to its east coast counterpart. The WYCI is at 493¢/kg cwt, but well behind over the hooks prices. The WA MSA Steer is the most expensive in the country at 580¢/kg cwt, 40¢ ahead of this time last year.
What does it mean/next week?:
There's no rain on the forecast and as such, it's hard to see too much of a price rise on the cards.  However, the closer we get to an autumn break, assuming it's coming, the closer we are to a rally.  The key to picking the market will be buying before the rain hits, which as we know from the ongoing dry, is not as easy as it sounds.