Markets hold despite elevated supply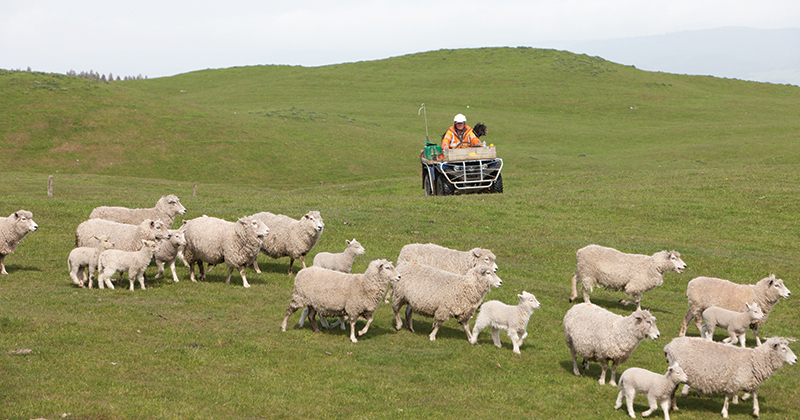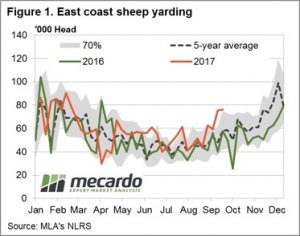 Fairly erratic moves to the state mutton prices this week but they all evened each other out to see the National Mutton Indicator just 3¢ softer to 370¢/kg cwt. Marginal prices changes the order of the week it seems with the Eastern States Trade Lamb Indicator continuing to dance around the $6 area, posting a 5¢ gain to close at 603¢/kg cwt.
East coast sheep throughput remains above the 70% range and despite the elevated numbers the national price remained fairly steady on the week – figure 1. In stark contrast to the state saleyard mutton indicators which all had their share of action. Victorian mutton off 5.9% to 370¢, NSW mutton 8.5% lower to 376¢ and SA mutton recovering from last week's price drop with a 27.4% gain to 358¢. In the West mutton replicating the SA experience with a 21.9% boost to 329¢, while Tasmanian mutton had a shocker with a 25.7% decline to 251¢/kg cwt.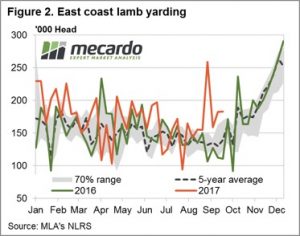 East coast lamb throughput showing a similar story to sheep throughput with yardings remaining above the 70% range and quite elevated for this time of the year – figure 2. The high sheep throughput being held up by above average numbers at saleyards mainly centred in NSW. The lamb throughput supported by NSW and Victorian flows, the only two states with yarding figures trekking above average for this time of the season.
National lamb saleyard indicators somewhat mixed this week with Restocker lambs the star performer, boosted by a recovery in WA Restocker prices, to see it up 10% to $97 per head. Merino lambs the laggard, weighed down by Victorian Merino, to register a 3% fall to 523¢/kg cwt. National Trade and Heavy lamb managing to hold above the $6 mark, closing up 1% (604¢) and 2.2% (607¢), respectively.
The week ahead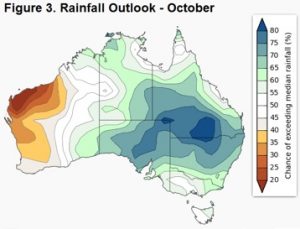 The recent Victorian lamb yarding pattern suggest the beginning of the Spring flush is underway which is likely to start to see some price pressures for the ESTLI in the coming weeks. Although, the updated Bureau of Meteorology rainfall outlook for October (figure 3) signals a move to a much wetter NSW which will provide some welcome relief to producers there and price support on dips.