Maybe now it can only go up?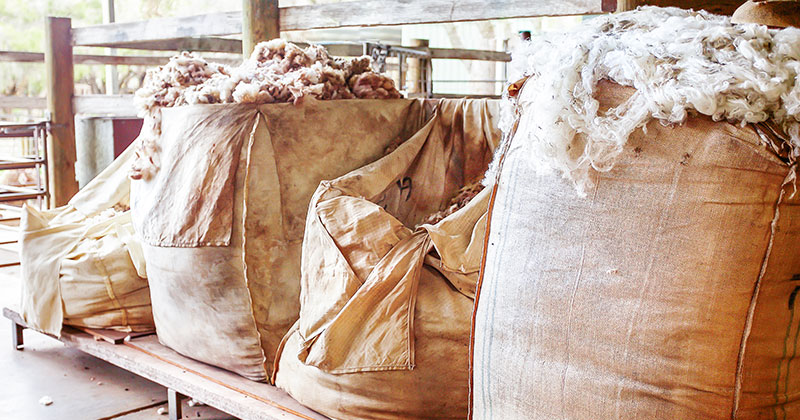 Dive, crash and plunge are the headlines strapped to this weeks wool market which saw the largest correction in percentage terms in the last eight years. In absolute price terms, it was the largest in the last 16 years. That being said, with the Eastern Market Indicator currently at 1,513 cents, prices are still higher than the previous two peaks.
The EMI lost 112 cents on the opening day and a further 52 cents on Thursday, for a total 163 cent drop. The Western Market Indicator (WMI) didn't escape the deluge, giving up 162 cents across the two days of selling to close at 1,598 cents. The AUD actually lifted which sheltered some of the loss in US terms to put the EMI at 1,026 US cents.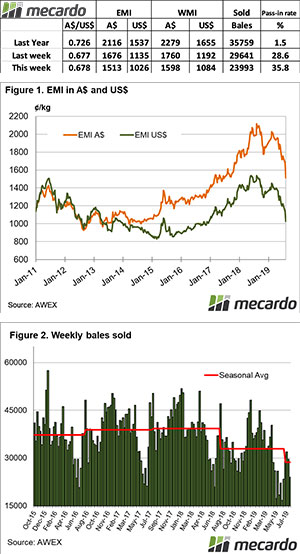 All microns and categories felt the fall. 19.5 to 21 micron lost around 200 to 210 cents on the week in all selling centres. Merino cardings were the least scathed of all categories, dropping between 10 and 50 cents.
Since the market started to turn from its peak last year, the EMI has dropped 26%. Although the speed of this fall has been significant, we have seen larger corrections before. In 2011 the market fell 33% in just over a year, and before that, the largest correction was from 2003 to the end of 2005 where it fell 47%, but in absolute prices that was just 569 cents.
When looking at the 19.5 and 21 micron in USD terms, this downward cycle has been very similar to the fall in 2011-2012. During that period the market found a base in the second half of August after strong sell-offs.
37,379 bales were offered at Sydney, Melbourne & Fremantle. As could be expected growers weren't happy with the falling market and passed in a huge 35.8% of the offering. According to AWEX, this was the highest pass in rate since 2003. This meant that just 23,993 bales were cleared to the trade, 5,648 fewer than last week.
The dollar value for the week was just $39.63 million, for a combined value so far this season of $203.85 billion.
No forwards contracts traded this week.
The week ahead
The uncertainty in global trade has well and truly filtered through to uncertainty in the wool game. Market dynamics become less predictable, with normal supply and price behaviour often lost in the process.
However, the speed and scale of this correction have moved the market towards levels that would be considered good value in foreign terms. This should see some support return to the market.
Next week 33,969 bales are rostered for sale in just Sydney and Melbourne. 34,705 and 37,465 bales are currently forecast for the subsequent weeks.