More slaughter this year, but same later.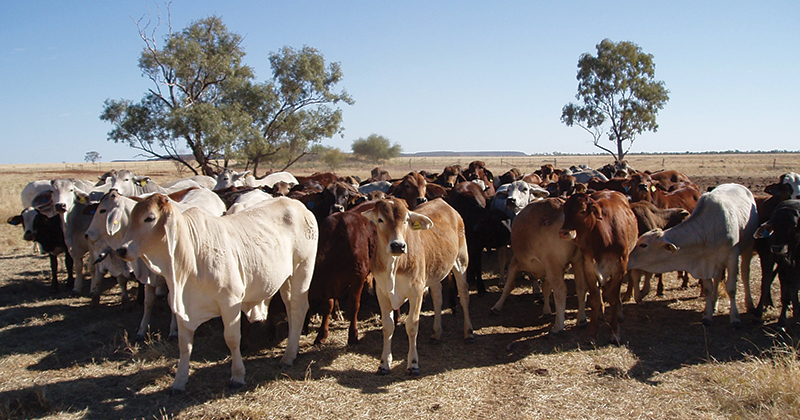 Perhaps producers are responding to the rainfall scheduled for the coming week a little early, but the decline in cattle throughput at the sale yard over the last seven days have seen national cattle prices stabilize. The story is mixed across the states, though broadly speaking the market looks to have found a bit of a base.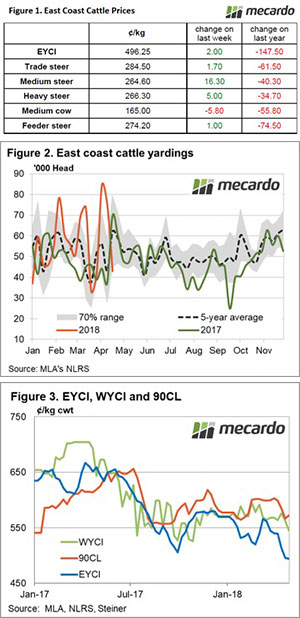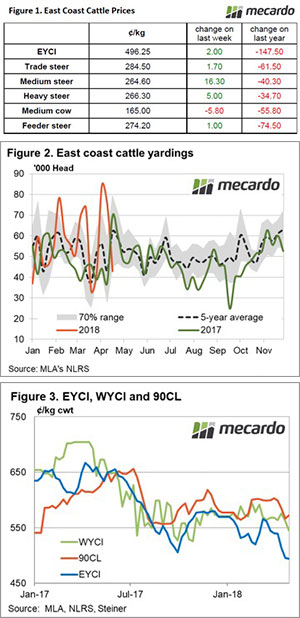 Table 1 highlights the weekly price action for a selection of cattle categories across the Eastern seaboard with all but Medium Cow postinggains. The Eastern Young Cattle Indicator (EYCI), Trade and Feeder Steers are barely unchanged. Medium Steers the best performer, up 6.5% to 264.6¢/kg lwt.
In Queensland, sale yard prices were a little softer across the board with most types off 1-3%. Medium Steers were the laggard in the north, down 5% on the week to 246¢/kg lwt. NSW saw mixed action for its cattle categories, ranging from 5% gains to 5% losses. NSW Restocker Steers proved the best performer, with a 4.5% lift to 268¢/kg lwt and Trade Steers are dragging their feet a bit posting a 4.8% drop to 273¢/kg lwt. In Victoria, all categories bar Feeder Steers saw price rises between 1-8%. Victorian Feeder Steers had a 2% decline to close at 266¢/kg cwt and Heavy Steers put in a stellar effort to finish the week up 7.8% to 279¢/kg lwt.
East coast throughput figures provide a clue to the halt in price declines, with cattle yardings off 43% on the week to see throughput levels test below the normal range for this time in the year – Figure 2. Cattle yardings were just shy of 43,000 head and are now sitting 30% under the average seasonal level based off the last five years of data.
In the West, cattle yardings were also softer, with prices stabilizing to close at 560¢/kg cwt. Western young cattle prices are still enjoying a 13% premium to the EYCI, which finished the week at 496¢.  In offshore markets the 90CL frozen cow indicator trekked sideways to close at 573¢/kg CIF – Figure 3.
What does it mean/next week?'
For the first time in a good while there is 10-25mm of rainfall forecast for a swathe of the Eastern states. This is likely to see a lift in spirits and may also revive the interest of some Southern restockers if it looks to be the signal for the beginning of the Autumn break. Cattle prices should continue to consolidate in the coming week with a slight upward bias if the rains come as hoped.