New Year market continues positively
The break in wool sales over the Christmas period proved positive with the opening sale of 2018 pushing higher across all Merino and fine X Bred types.
Buyers were able to secure new orders over the Christmas break, and also digest the potential of reduced supply in coming months.
Of concern to exporters was year on year tested volumes as reported by AWTA showing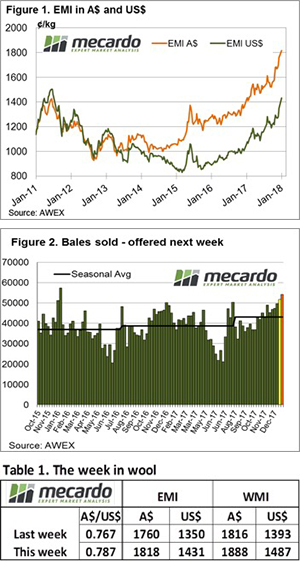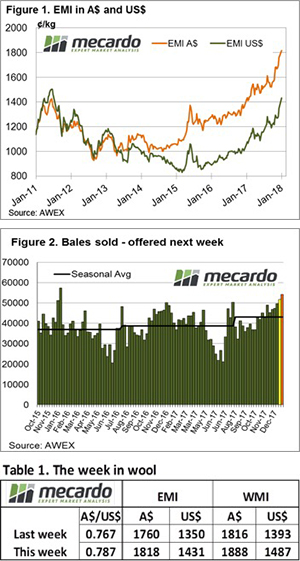 December Merino volume was down 20% compared to 2017.
This pushed the EMI to a new high of 1818 cents, adding 58 cents for the week on top of the 405-cent gain in 2017.
Despite the Au$ improving US$0.02 over the break, the EMI jumped 82 US cents for the week underpinning the strong market sentiment. W.A. didn't miss out either with the WMI lifting 72 cents, closing the week at 1888 cents.
If there is one potential concern on the horizon it is the relationship of wool prices to competitive fibres. Traditionally a 3 : 1 ratio to the cotton price was seen as comfortable. This ratio today is closer to 8 : 1 although as Mecardo reported this week the ground rules have changed. The price ratio is closely related to supply, and with supply unlikely to increase any time soon this risk is minimal.
It was noted that while the high ratio can be supported based on supply of wool as a percentage of cotton production, volatility is still possible. This should encourage wool producers to continue to sell asap, and to consider hedging future clips at record income levels.
In 2017 Cardings "outperformed", posting a 32% gain for the year to end at almost 1500 cents, however this was no barrier to further increases this week 60 – 75 cent increases achieved.
As we have previously reported, broker's stores have record low grower stocks, and with growers clearing out wool sheds to get wool into sales to capitalise on the record prices, the supply side has little ability to respond with increased bales to meet demand.
The week ahead
The market heads into 2018 with confidence, reduced supply and increased demand appear to be the underpinning sentiments which bodes well for sellers.
Next week 54,250 bales will be offered in the three selling centres..