No cattle supply decline yet.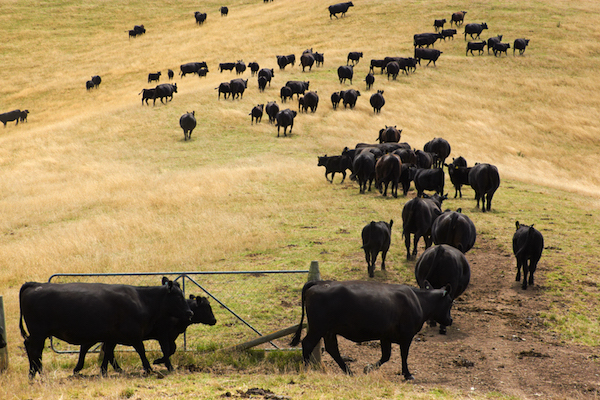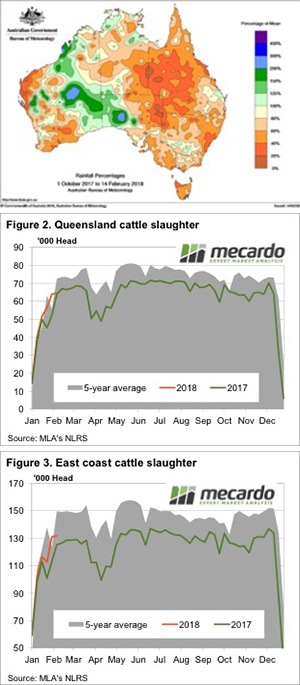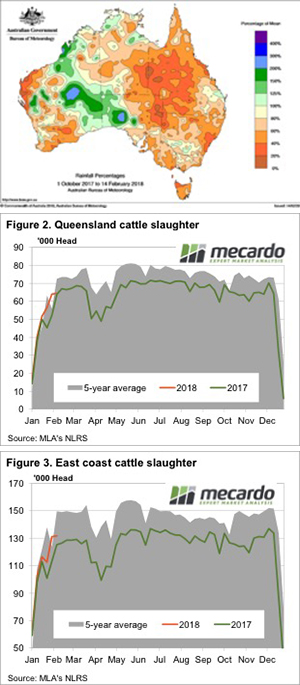 Key Points
Rainfall in Queensland was weaker than forecast, but we have seen supply tighten in a relative sense in Queensland.
Victorian and NSW cattle slaughter has been stronger, pushing total east coast slaughter higher than last year.
There is potential for cattle slaughter to fall with good rain, putting upward pressure on prices.
We've seen some rain in Queensland, and it has had an impact on slaughter in the north at least.  It's in the south however where finished cattle supply has ramped up, with lower capacity in South Australia being made up further east.
The rainfall which fell in Queensland a couple of weeks ago was not quite as widespread as expected. Much of the precipitation was in the far north and within 200kms of the east coast.  Figure 1 shows that most of Queensland is yet to hit 60% of average wet season rainfalls, with two and a half months to go.
There appears to have been some impact on cattle supplies, at least in Queensland. Figure 2 shows that Queensland weekly slaughter looks like it might dip under last year's levels if it remains around the 65,000 head mark.
South Australian slaughter is well down on last year. The fire at TFI has slaughter down 28% in South Australia, but stronger slaughter in NSW and Victoria has total east coast levels stronger than last year.
Victoria killed 17% more cattle than the same week last year, while NSW is up 8%. This has east coast slaughter last week sitting 5.2% above the same time last year (figure 3). In fact, last week's slaughter was higher than any week before the middle of May in 2017.
In late January and early February, east coast cattle slaughter was 14% above last year's levels, and the 'relative' tightening in supply is likely to be behind the steady to slightly higher prices last week.
On average east coast cattle slaughter tracks sideways from now until the public holidays come again at the end of March.  However, we have seen slaughter levels rise or fall sharply at this time of year with rainfall, or lack of, usually the driver.
What does it mean/next week?:
While the rain hasn't seen slaughter fall, the rise seems to have slowed. Additionally, in their projections MLA forecast 2018 slaughter to be up 3% this year. So far in 2018 slaughter has been up 8% according to MLA's weekly numbers.
If MLA's numbers are to be correct, slaughter levels will have to track closer to last year's levels for the remainder of the year. While export demand will be the main driver of prices, tightening slaughter should see some improvement in prices relative to export values.  If slaughter remains better than 5% stronger than last year, we can expect a more pronounced supply contraction somewhere down the track, likely in the winter.