No rain equals price gain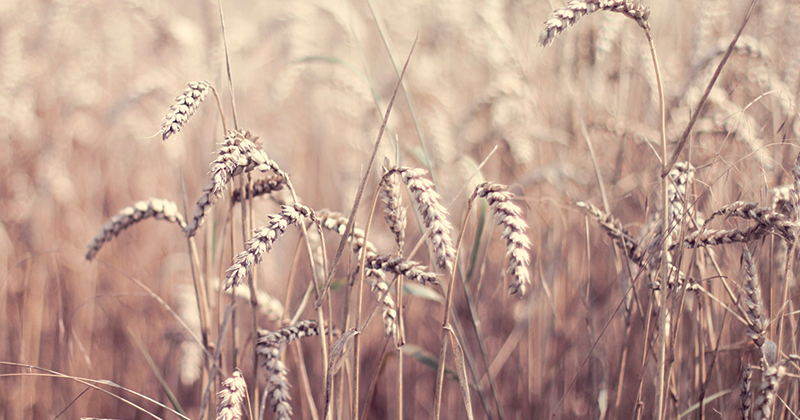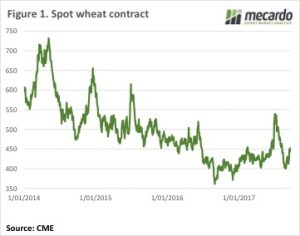 Local and international wheat markets continued to edge higher this week.  Local markets are still trying to get a grip on where the crop will end up, as it shrinks by the day.  The international market remains awash with wheat, but a rising rouble gave unlikely support.
Regular readers will be aware of the heavy wheat crop in Russia, and subsequent cheap exports emanating from the Black Sea.  This week those exports became a little dearer, as the Russian currency, the Rouble, rallied against the US dollar.
This helped lift CBOT wheat futures to a five week high, with the December contract gaining 8¢ for the week to get back to 452¢/bu last night (figure 1).  The Aussie dollar is not doing grain producers many favours, it's stuck at 79US¢, putting December Swaps at $210/t in our terms.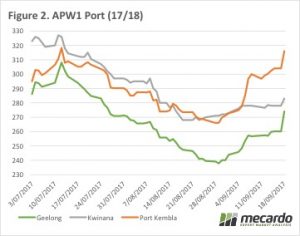 Locally the dry spell in NSW continues to run down the potential crop, with prices responding accordingly.  ASX East Coast wheat, which we must remember is now deliverable in Victoria, was quoted at $283/t yesterday, up around $10 for the week.  Interestingly Geelong continued to lag a bit, although it was up around $14 for the week to $274/t (figure 2).
The more stricken zones of Newcastle and Port Kembla hit $321 (figure 2) and $316 respectively.  A good price but unfortunately there won't be much wheat to deliver at these prices.
Barley prices are lagging significantly in the north, priced at $268 (Newcastle) and $250/t (Port Kembla), but in Victoria they are at a more normal spread, about $40 behind APW, at $240/t.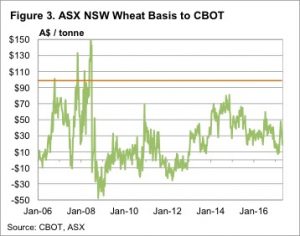 Canola values are also at a premium in the northern cropping zones, but not as much as you would think.  Newcastle Canola is priced around $550, with Geelong just $15 behind, at $535/t.  It's hard to see much canola being produced in NSW, but there might have been enough carry over from last year to satisfy local crushers.
The week ahead
While it remains dry the question is how much more of a premium can local wheat markets get on Chicago.  In Port Kembla APW basis to CBOT broke through the $100/t mark this week.  The old ASX wheat contract, which was deliverable only in NSW (figure 3) only went higher than $100 premium to CBOT during the 2007/08 harvest.