Not raining grass but restockers banking on it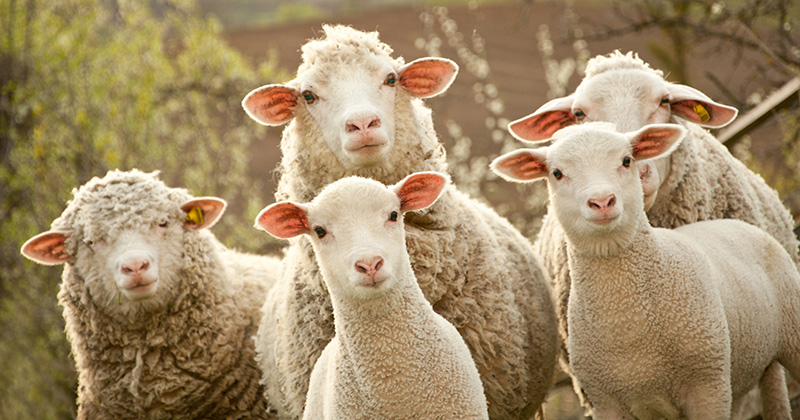 It has been some time since we've talked about rainfall driving sheep markets for three weeks in a row. Precipitation has all but completed the autumn break for key sheep areas in Victoria and South East SA. It doesn't rain grass, but try telling restockers that this week.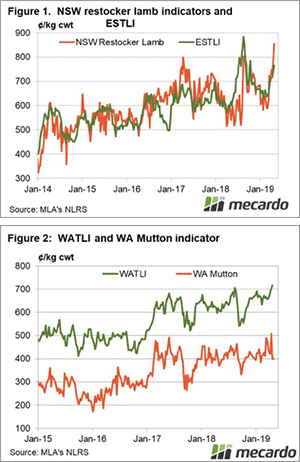 In another week of stronger prices, it was restocker lambs which stood out in the ovine complex.  Figure 1 shows the NSW Restocker Lamb Indicator streaking ahead of the Eastern States Trade Lamb Indicator (ESTLI).
The NSW Restocker lamb price has gained over 100¢ in two weeks, and 250¢ in six. For a 16kg cwt lamb this equates to $16 and $40 per head, with prices this week at $136 per head. Figure 1 shows 854¢ is a new record, well above the peak seen in September last year.
Those buying restocker lambs in NSW are literally banking on grass growing. If finished on grass, lambs bought now and sold at better than 800¢ should make a good margin.
Mutton prices set another record this week on the east coast hitting 561¢/kg cwt.  In WA, sheep are not cheap, but at 400¢, they are a long way behind the east. Trade Lambs are not as far behind, the WA indicator at 703¢ (Figure 2), less than 10% behind the ESTLI.
Over the hooks prices moved higher this week in response to rising saleyard values, with NSW leading the charge. The rain in Victoria this week is likely to see southern prices catch up.
 Next week?:
When rising prices don't draw out more numbers, prices generally keep rising. Last year the rally lasted five months and finished 55% higher than the autumn low. The next leg up might be soon and sharp. Rain in Victoria might encourage holding of lambs for winter premiums, so it might take another 40¢-50¢ higher to draw them out.