Not the greatest start to 2019.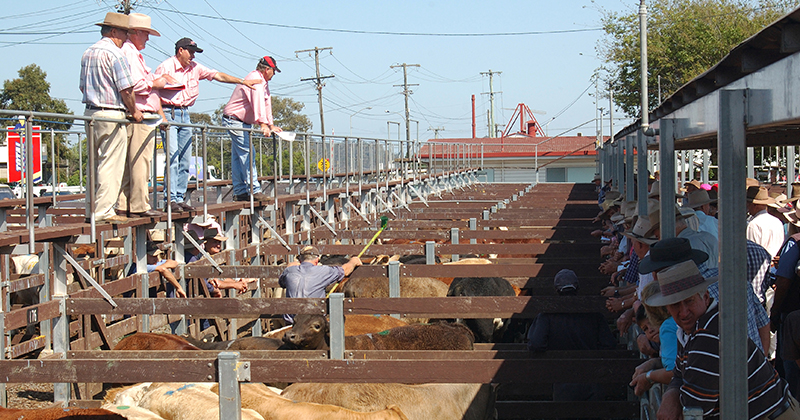 The first full week of cattle sales for 2019 provides limited cheer after the festive break with all key reported categories along the east coast registering price falls. There was a glimmer of hope in offshore markets, but the Bureau of Meteorology (BOM) compounded the sad start by giving us a below average rainfall forecast for much of the summer.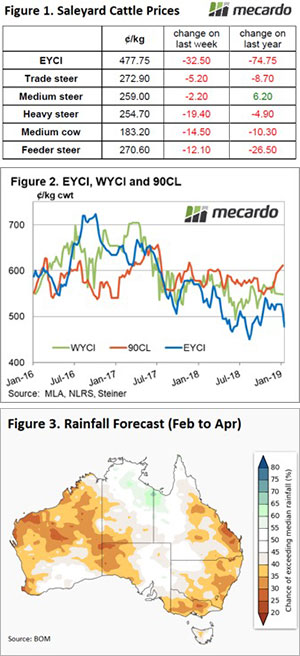 Medium Cow led the decline, posting a 7.9% drop to trade at 183.2¢/kg lwt. The Eastern Young Cattle Indicator (EYCI) and Heavy Steers were not far behind Medium Cow, with 6.8% and 6.7% falls, respectively. The EYCI peeled off 32.5¢ on the week to close at 477.75¢/kg cwt (Figure 1).
In the West, young cattle prices managed to hold their ground with the Western Young Cattle Indicator (WYCI) continuing to stabilise near the 550¢/kg cwt area. There was more favourable news from North America though. Light beef volumes from Australia and New Zealand and limited insight into beef volumes coming into the US (due to the federal shutdown) has encouraged the 90CL Frozen Cow indicator higher. The 90CL has climbed 3% since the 2018 close to see it back above 600¢ for the first time since March 2018 (Figure 2).
Unfortunately, this season's first look at the BOM rainfall outlook for the February to April period paints a gloomy picture for cattle producers across much of the country. There's a low chance of exceeding median rainfall levels for much of WA, western SA, eastern Queensland and NSW, and most of Victoria (Figure 3). Ironically the lack of rain forecast managed to put a dampener on cattle prices this week.
Next week
As of last Fridays' close, the 90CL was trading at 611.5¢/kg CIF putting it at nearly a 28% premium to the EYCI. Historically, the 90CL usually trades at a premium to the EYCI but the near 134¢ premium that currently exists is a bit outside the normal range. This should lend some support to the EYCI in the coming weeks if it can remain above 600¢.