NSW and Victorian gains eroded by SA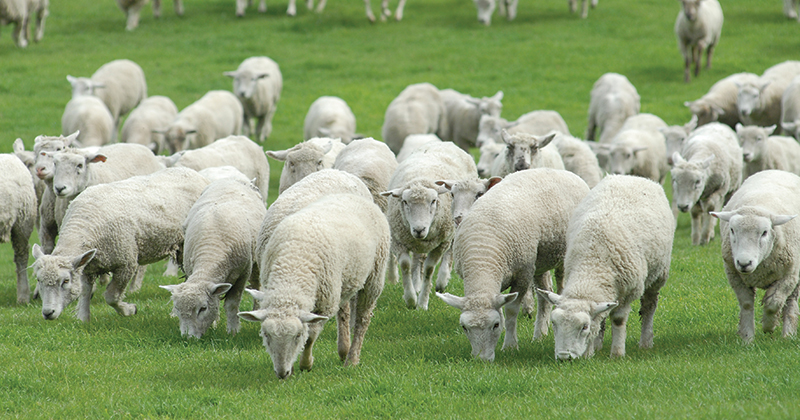 A mixed week across the states for ovine markets as price increases for most categories of lamb and sheep in NSW and Victorian saleyards wiped away by losses in SA to see most national categories of lamb close flat.
The Eastern States Trade Lamb Indicator (ESTLI) marginally higher, climbing to 671¢/kg cwt to post a 1.2% rise. National Mutton not as robust, but still a positive result, with a 0.8% lift to 527¢/kg cwt – figure 1. More impressive for mutton the 3.3% increase in Natio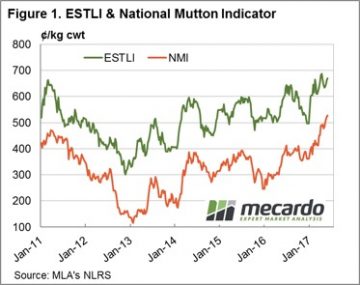 nal OTH prices to see it probe toward the $5 mark, closing just shy at 490¢/kg. WA Trade lamb mirroring the ESTLI percentage gains to see it up 1.1% to 664¢/kg cwt, while WA mutton recovering strongly to see an 8.6% rise to 453¢.
In Victoria, restocker and trade lambs leading the charge higher with 6.1% ($116 per head) and 2.7% (695¢/kg cwt) improvements on the week, respectively.  Light lambs (up 2.3% to 680¢) and mutton (up 2.5% to 542¢) the two best performers for NSW – other than the cockroaches on Wednesday night. SA lamb and sheep mirroring the dismal cane toad's effort getting thumped across the board and displaying lacklustre quality. SA light lambs and mutton the worst of the pack, down 11.4% (608¢) and 11% (471¢), respectively. Indeed, SA OTH prices posting a premium to the saleyard prices this week with trade/heavy lambs achieving 660¢ and mutton at 480¢.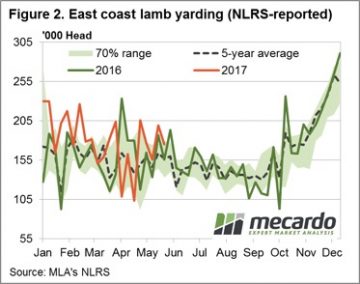 East coast lamb throughput retraced 12% this week to see just over 175,000 head reported through the saleyards. The softer offering broadly supportive of prices, although SA lamb numbers were up 18.7% in contrast to the other East coast states – perhaps another reason for the SA price weakness displayed. Despite the softer week on week East coast lamb throughput the trend is still tracking above the five-year average and higher than this time last year – figure 2. This suggest the current solid prices are drawing out a bit of supply but not enough to curb the recent price gains.
The week ahead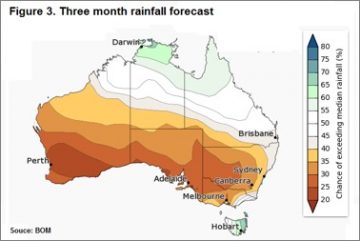 A good sign for robust offshore demand noted with live export wethers up 26% on the week to hit $136 per head out of Muchea. Finally, in weather news of a different kind the Bureau of Meteorology released their next instalment of the three-month outlook showing a drier than normal Winter for much of the sheep rearing regions of the country.
Although, given the tight supply this year and the remnants of the favourable seasonal conditions experienced last year a drier Winter period is unlikely to cause too many headwinds for sheep and lamb prices in the coming month.