NZ flock still in decline, but stabilising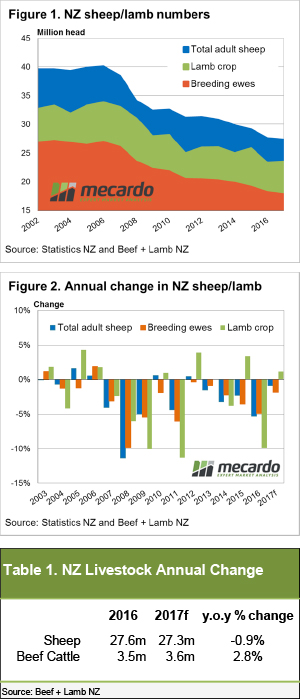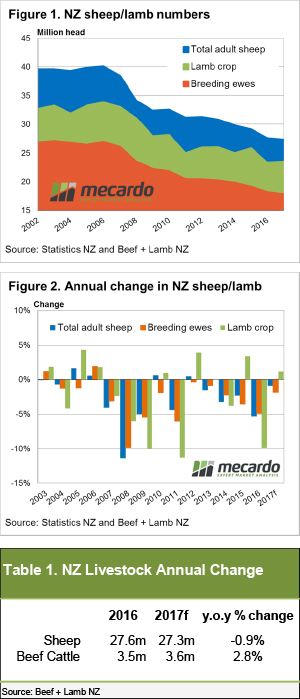 Beef and Lamb NZ's mid-year stock number survey shows the Kiwi sheep flock and number of breeding ewes continuing to decline into 2017, albeit at a lesser degree than in previous seasons. Although, good pasture and ewe condition throughout the breeding cycle has seen an improvement in the anticipated lamb crop for this year.
Figure 1 shows the decline in total sheep, breeding ewes and the annual lamb crop numbers since 2002, with a noticeable levelling off in the gradient of decline for total sheep during the 2016 to 2017 period, to see the NZ flock expected to finish the year at 27.3 million head.
Breeding ewe numbers mirroring the decline in the total sheep flock, posting a 1.9% fall from 2016 levels to see 17.8 million head recorded for 2017. Although, the total sheep flock has been given a boost by increasing trade and replacement ewe hoggets over the period to see a 1.7% lift in hoggets for 2017 to 8.7 million head. The net impact of reduced breeding ewes being offset by higher numbers of ewe hoggets being paired with rams and improved pasture availability, leading to improved ewe condition during the mating cycle, has seen an increase in the lamb crop of 1.1% anticipated this Spring to 23.5 million head.
The decreasing annual rate of decline in total sheep and breeding ewe numbers evident in figure 2, with the year on year percentage change from 2016 to 2017 pretty obvious. Indeed, for 2016 total lamb numbers declined 5.3% compared to a 0.9% drop expected for 2017. Similarly, the 4.9% fall in breeding ewes in 2016 has narrowed to a 1.9% decline anticipated for the current season. However, the biggest year on year improvement reserved for the lamb crop with a 9.9% decline in 2016 against a 1.1% rise forecast for 2017.
What does this mean?
The reduction in the rate of decline for sheep numbers in NZ isn't robust enough to point to a return to favouring sheep/lamb production. Although, it is useful to keep an eye on how the industry is trending over there, particularly with reference to supply, as NZ are our only serious export competitor. Indeed, reduced NZ sheep production over the last decade has helped support overseas demand for the Australian product.
Declines in farm gate dairy prices over the last two years have seen the NZ dairy industry contract slightly, but remains NZ's largest export sector and continues to fight for acres with sheep producers. Similarly, relatively high cattle prices and a favourable season is expected to see the NZ beef industry continue to expand into 2017 (Table 1) further hampering the ability for the NZ sheep industry to return to a significant expansion phase.